Sawasdee from Bangkok!
Leg one of our Journey has come to an end and we are on to part Two. New York was a wonderful break pre departing for Thailand. We had five days in Clintondale upstate New York. Our hosts Lyndsey and Spo really looked after us. Thankfully Spo picked us up at JFK and whisked us back to their place in Clintondale where Lindsey had a great BBQ dinner waiting for us. The temperature in New York was lovely and cool. It had us running for our sweaters and long pants. While in New York I had a chance to do a couple of runs in the cool weather. Clintodale is hillier than the Tortola coast road so I was a bit worried on my first day when I started my run and it was all down hill. I wasn't sure if I was going to be able to run back up, but with that cool air no problem I felt like a true champ. I was also able to do a run in a loop which is another novelty when living in Tortola. No one else in the house seemed as excited as I but that's ok they all seemed happy for me. I also took the opportunity to break my bike out of it's box. This seems to be of some interest when Steve and I go through the airports, me pulling the huge bike box and Steve with his guitar. A couple of people were a band.! I am not sure what instrument they think I play. New York was great for cycling. I rode out for an hour without even noticing I had been out that long and then turned around and headed home. A two hour ride at home would take at least three trips between Nanny Cay and West End so one long ride was great. There were some hills involved and once again what a change to Tortola. I rode up through the Shawangunk Mountains. The grade of these hills was so lovely. No need to feel like if you slow for a second you may fall off your bike like some parts of Tortola. While out riding I ran into Steve and Spo who had been out rock climbing. I shouted to them that I would see them at the German bar at the bottom of the hill but alas it was shut. Needless to say the boys found another venue and the cold drink I had been thinking about had to wait till I got back to the Spo house. Where there was more great food off the BB-q. It's so wonderful to eat fruit and vegetables that have so much flavor. The sweet corn was to die for and we loved it so much we had to have it again before we left. Lyndsey took me to my first spin class. I think I am too lazy for such classes. It had me sweating and red in the face for forty minutes! Thank goodness Lyndsey had a towel I could borrow that was a real intense work out. Before leaving New York Lyndsey and Spo took us to pick up those last minute items for our trip. What a great place to shop. Of course we spent more then intended but all purchases were great buys.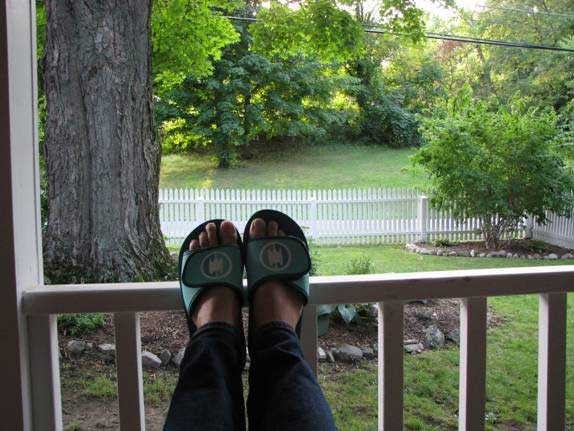 Kicking back on the balcony in Clintondale.
Sadly we had to leave on Sunday morning. We were up at 5:00 AM and on the road to the train station at 5:45 AM. Well done to Spo for the early rise to drop us at the train station. We took the train in to Grand Central Station. Thankfully the train and the station were both quiet on Sunday morning and we had a smooth transfer to a cab and on to the airport. We arrived in good time and once checked in had breakfast before going through security. Which by the way was no where near as long a wait as Puerto Rico.
We boarded the Thai Airways flight at 11:30 which was the start of the 17.5 hour flight. Now that is a long flight. We flew up and over Canada and Russia then down over Kazhakstan. The in flight entertainment is amazing. They had dozen of new release movies, classic movies, TV shows, Videos and music channels to choose from all on demand and in the back of the seat in front of you. The seats had good leg room but on a 17 hour flight the royal silk and first class seats sure looked better then the back of the bus where we were. We may have been at the back of the bus but the food was superb. Thai Airways is one airline where you look forward to the food. We had green curry for lunch, red curry for dinner and shrimp pad thai for breakfast. Oh it was all so good. They also don't make you pay for food or drinks which is a nasty new trend with airlines. The flight was rather long but good. Steve didn't manage to sleep but I caught a few winks. We arrived in Bangkok at 4:20 PM which was 5:20 AM our time. Once clearing customs we managed to get the bike and our bags in a taxi. The bike box had to be put in the back seat with just enough room for me and the guitar to squeeze in.
We are staying at the IBIS Hotel which is within walking distance of the shopping district. Today we walked in and had a little look through the malls. We picked up some fresh pineapple, Papaya, and watermelon from a street vendor. It's so nice to pick up pre cut tasty fruit for a dollar. No other purchase made except a Thai Phrase book and a hair cut for Steve. He managed to avoid any work on the ears and nose. While in the shopping district we went to one of the big hotels attached to the mall which has a lovely salt water 25 meter pool. I had a great hour swim and then relaxed in one of the lounge chairs.
A swim in downtown Bangkok (8th floor)
It's another early day tomorrow. We are on the 6:00 AM flight to Koi Samui to see Steve's sister for a week before flying out to Singapore for the first race. I am curious to see if I will be able to get at least a little riding in Samui. I am sure the running and swimming won't be a problem. The weather doesn't seem too much hotter or more humid then Tortola so I hope that it won't be a big factor in Singapore.
It's time to head out and get some more great food for dinner!
Speak to you soon
Sue and Steve



For more additional information, please visit www.catamarans.com