FESTIVA VIDEO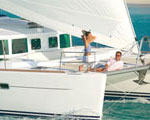 A video presentation conveying what you can expect on a cabin-style sailing vacation withFestiva Sailing Vacations...
Watch the video >>

If you wish to be pampered, make new friends and enjoy the experience of a lifetime, why not consider a cabin cruise on a Lagoon 440 or charter the entire boat!

In order to minimize the chance of having these cabins remain empty, Festiva are now offering them at a 50% mark down from regular price. Everything is included at the half off price of $1995 per couple. This includes 7 days and 7 nights on a top of the line sailing catamaran (Lagoon 440) each cabin is air conditioned with private bath. Each sailing vacation also includes crew and chef. All on-boards meals are free along with an open bar. Taxes and port fees are also paid for.
Charterers have the choice of three destinations: St. Maarten (July 14th and July 28th), Tortola (August 12th only), and the Grenadines (July 21st and August 4th, 11th, 25th, and 28th)
If you are interested in booking, inquire now for availability. Be sure to enter the following promotional code in your comments to obtain the special discount: UNSOLD07-B.
The fine print: Availability is limited. This is strictly first come, first served. This is a luxury boat, so there are age and income qualifications. This price is good for Festiva's unsold July and August 2007 inventory only.


For more additional information, please visit www.catamarans.com