The Miami International & Strictly Sail shows span three great locations, with an abundant variety of catamaran models including the Lagoon 380-S2, Lagoon 420, Lagoon 440, Lagoon 500 and Sunreef 62 located at the sail-only portion of the show along the Miamarina at Bayside, just across the bay from Miami Beach. There will also be a Lagoon Power 43 on dispay at the brokerage show off of Collins Avenue. Parking with shuttle service to the Miami Beach Convention Center, the Sea Isle Marina & Yachting Center, and the Miamarina at Bayside is available.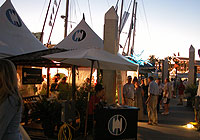 In addition to the various exhibits, the show offers boating enthusiasts and novices the opportunity to test drive watercraft and participate in interactive seminars with access to a wealth of resources that maximize time spent out on the water.

You can expect Catamarans.com to be out in full force! Armed with a 20 ft. x 50 ft. exhibiting area designed as a "one-stop" source for all of your sales, charter and yacht services needs, you will find ten of our knowledgeable brokers and department staff on hand to answer any of your yachting questions pretaining to their area of expertise.

If you are passionate about boating and all things nautical, the "World's greatest boat show" is the event for you. Get a jumpstart on the event by researching your financing options and featured catamaran models on display at the show via our informative website. Review our comprehensive story archive for any recent news articles, virtual tours or images that have been added concerning the multihull model of your choice. Contact your broker today to schedule your show appointment early, or to request any sales documents such as specifications, pricing or agreements as necessary.