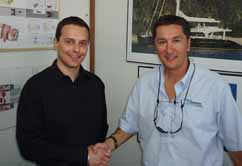 May 2006 - Nicolas Lapp (left) and Hugh Murray (right) sign agreement

Sunreef and Catamarans.com joined forces back in May. Catamarans.com has recognized Sunreef's potential of becoming an industry leader. The boat maker does not cut any corners when they engage in the construction of one of their luxurious twin hull yachts.

Sunreef's factory and headquarters is located in Gdnask, Poland. This boat manufacturer has already planned for their rise in the yacht industry. Sunreef's enormous shipyard is set-up to build the latest in technology and most luxurious mega catamarans. This is all premeditated for an infrastructure that will give the company the capability for an increase in output as their popularity gains strength.

Now featuring a range which includes catamarans in 60, 62, 67, 74, 76, 80, 82, 92, 102 and 122 foot models, Sunreef Yachts creates yachts that reflect the needs and desires of the owner down to the minutest detail. From upholstery to electronics, everything is well thought out by professionals who know what makes a yacht both livable and sailable.

Currently Sunreef is in the early stages of launching a power catamaran fleet. They are in the process of building a 67 foot power catamaran that holds true to the level of luxury that has been established in their sailing cats.

Sunreef Yachts already has three other power cats up their sleeve to unveil. Amongst these power catamarans will be a smaller 60 foot design and two larger cats, the larger being 82 feet.

Everything that involves the creation of one of these mega catamarans is done in-house. This way, a free flow of communication is constant. Since nothing is outsourced, Sunreef dose not have to waste time communicating with any external affiliates when a change in plan surfaces. So, please come and visit the sunreef representative at the Catamarans.com Booth and take a peek at the future of mega catamarans.