By Malcolm Turner, Multihull Review, March/April 2006

Now comes the news that The Mooring are venturing up a similar path but using a rather different system to Lagoon. A Leopard 43, apparently christened the "eLeopard", has been launched and is presently heading for Miami . Plans called for it to appear at the Miami Boat Show, but latest reports say that it has been held up by bad weather.
Under its conventional configuration the Leopard 43 is fitted with twin 30hp Yanmar saildrives. These have been replaced in the "e" version with two 35hp electric motors and one 25kW generator. The power output from this is 33hp (747 watts equals one hp).
Despite this reduction in power output there has been no loss in speed. Tests before the boat left South Africa showed it reaching a top speed of 8.2 knots under power. The twin Yanmar version has a top speed of 7.5 knots.
The reason for this is that a lot of energy produced by a conventional diesel engine is wasted. Fischer Panda, who have done a lot of work in this area, estimate that a rate of 2kW/1 ton is the correct ratio to work upon for diesel electric propulsion.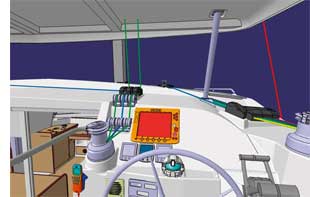 Given that the displacement of a conventional Leopard 43 is around 8.5 tons this would give a requirement for an electrical output of some 17kW. This leaves plenty of spare capacity in the 25kW generator to charge the batteries and power any ancillary domestic equipment.
So what is different about the two versions of diesel electric propulsion? Well, Lagoon who have been experimenting in this area for a number of years have chosen to go down the path that is often described as an "hybrid-electric system"
In this system the prime motive power comes from two banks of six 12 volt batteries which will drive two 72 volt dc electric motors. On leaving harbour fully charged the batteries will drive the engines for around two hours after which they will have lost some 20% of capacity. The 11Kv Onan 220Volts generator (13.5Kv for the 110volts US version) will then kick in.
In order to reduce costs and ensure reliability, Lagoon has gone to Leroy Somer, the French arm of the large US Emerson group for its propulsion system.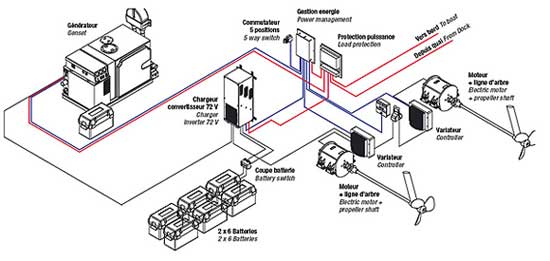 "These engines are based on industrial units made in their thousands by this company with a proven track record of running 24 hours a day, seven days a week. In effect they are also maintenance free and only require a simple bearing change every 20,000 hours," says Lagoon chief executive Yann Masselick.
"We have gone down this path because we wanted a regeneration system. This is particularly important on long voyages. On trials across the Atlantic prototype boats have hardly used any fuel at all as the batteries are charged by free wheeling props when the boat is sailing.
"This method has been proven by us with the development of seven prototypes, of which six have crossed the Atlantic . In all cases fuel consumption was minimal despite running radios, autopilots, lights, refrigerators and freezers. It is a very good ecological system for charging batteries.
"Price is also very important which is why we have gone to a major industrial company such as Leroy Somer. The previous 410 cost €250,000 while the new 42 will cost €270,000. I think that this is extremely reasonable when you consider that the new boat has a rigid bimini and a generator, as well as being bigger.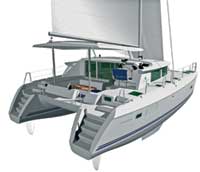 "The hulls are slightly broader which will mean a small reduction in top speeds but this is unlikely to affect passage times - a Lagoon 57 has just won the ARC multihull division in real time against some stiff competition.
"We have had more than 50 orders to date from private owners and no one has requested a twin diesel version, which would indicate that people like what we are doing.
"The first boats will be launched in June with owners taking delivery in July. A number will be going to the US as well as to Europe ," he said
The new "e" Leopard, which The Moorings very much regard as a test project, takes a rather different approach. They have joined forces with Glacier Bay Inc., a US company who's OSSA powerlite products are used extensively in the marine industry.
This latter company has supplied both the twin 35hp dc electric motors and the 25kW generator which powers them. This is also used to run the two 20,000 btu/hr "Micro Air" air conditioning units from the same supplier.
A conventional domestic battery bank provides power for the usual 12 volt items such as autopilot, instruments, light, radio and refrigeration as will as supplying 115 volt power via an inverter.
Glacier Bay also claims that fuel consumption is significantly reduced though use of its system.
On the question of cost, the "frequently asked questions" section of its website says that "The Ossa Powerlite System will probably be more expensive. In general, plan on the cost being around 150% to 200% more than it would be with conventional equipment.
"For a typical new boat build the premium paid for a complete OSSA powerlite system adds about five per cent to the cost of the boat."
So why has diesel electric propulsion suddenly come to the fore with a number of major players - Fischer Panda and Benetau are also working in this area - now getting involved.
Well, there is nothing particularly new about it. Most major cruise liners built over the past 10 years use it because of the fuel savings they can make.
All Icebreakers are also propelled in this way because of the increased thrust they can develop which is not available from conventional diesel engines.
Recent developments now mean that these systems can now be applied to much smaller vessels than would have been the case even a few years ago. A British company which has been involved in this area for a number of years is Sillette Sonic Ltd.
While this company is best known in the multihull world for supplying the folding sail drive units for Prout Catamarans, they also supply electric propulsions systems and have a number of their drive units working in many parts of the world.
Given the inherent advantages of a diesel electric system, electrical power always on tap, reduced fuel consumption and only one engine to service, it would seem only a matter of time before the majority of new boats are powered in this way.
We will keep you posted on forthcoming developments.