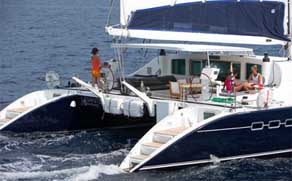 I have received many e-mails from people that are interested in long term cruising and or living aboard catamarans, some planning on single handed sailing and some with families. I thought it would be informative to share some comments from people that are actually doing it, not just dreaming about it.

Cindy & Doug are the couple who decided to share their Liveboard experience and I I've known them for many years. They live on their Catamaran in the marina that I ran sailing charters out of. Cindy was nice enough to put down some thoughts regarding the liveaboard lifestyle.
We've lived aboard catamarans full time since 1998. Our first live aboard cat was a 1990 PDQ36 that we bought when we were in our 20's and didn't have a clue about catamaran sailing.

When you're out cruising you spend most of your time at anchor, and with a shallow draft we were able to tuck into places that were more protected and away from crowds of boats. When the wind picks up the boat doesn't heel, she just goes faster. And with twin engines parking the beast is not as hard as it seems. Also twin engines means if you have an engine problem, you can keep going easily on one to get somewhere appropriate to fix your problem. We often motor sailed on one engine just to save fuel. The wide beam also gave us extra space for solar panels. We had enough solar and wind power combined that even when we were in marinas while cruising, we NEVER once plugged in and only ran the engine once to charge batteries. We lived quite comfortably with all of the creature comforts just on solar and wind power. We also love having an arch built in to the back of the boat. The pulley system for our dinghy meant that every night at anchor we could easily raise our dink – giving us peace of mind about it being there in the morning and a cleaner bottom as well.
With our 50-pound dog cruising with us, we never had a problem getting him (or ourselves) in and out of the dinghy because the aft steps make dinghy boarding a breeze.
Of course you can't beat the interior space, the spacious cockpits, and nice flat decks at all times. We're a big fan of galley-down designs because it gives you a larger galley with more storage, and it keeps your guests out of your cooking mess! If you are like we are, you don't always clean up right away, and it's nice that dirty dishes are not the first thing you see when you walk on board.
The down side to a cat – cleaning. Yup a bigger boat is more boat to keep clean, but we can live with that. The dock space issue has NEVER been a problem for us, and the further south you go, the more cat friendly marinas tend to be. The only snafu with wider beams is finding a haul out facility, but they're out there and more are popping up every year.
After six lovely years on our loyal PDQ36, we sold her for a bigger boat. Not because we didn't love her, but because we had an addition to our family – our son Zach. At 8 months pregnant we made the big move to a 1999 St. Francis 44 catamaran – and we love every inch of her! It's perfect for a family… the simple white interior means when our little Picasso starts coloring on the walls we can wipe it down with a sponge and some bleach. We converted the 4th cabin in the aft port hull behind the galley into a workshop/ pantry. And we have plenty of space for guests and lots of toys! As a his-and-hers perspective, SHE likes the bathtubs and storage space and HE likes the fact that a St. Francis won the Cape to Rio race a few years back. And baby Zach likes having enough space in the cockpit for a wading pool… everyone is happy!

We plan on upgrading the systems on this boat, training our swabbie to be a good deck hand, and taking off the cruise again in about 5 years.

-- Cindy & Doug