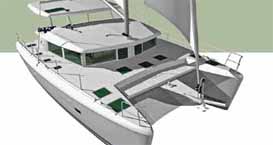 Lagoon 420 Rendering
New Electric Lagoon 420

At the Paris Show Lagoon publicly offered the L-420 to the market. The electric-powered L-420 has made a break through in design and technology. Two version's are offered: a charter layout that consists of 4 double cabins with 4 half-island beds, 4 bathrooms with separate showers or a luxurious owner's version offering 3 double cabins and 3 bathrooms on a boat less than 42 feet!


Power is provided by one Onan generator and powers a battery bank. From the battery bank two Leroy Somers motors will run silently for two hours before the generator will automatically start charging the battery bank.

The cabin arrangement provides for 3 or 4 island berths.

Raised helm station has seating for two under a hard top bimini.
All control lines lead back to the helm with easy single handed sail control.
High gull-wing bridge deck design with forward nacelle.
Large salon with forward facing navigation station offering inside steering and engine controls.
"L" shaped galley with cockpit pass-through window.

We will see the first Lagoon 42 roll off the production line Summer 2006. Dealers all over the world have been taking orders and the 2006 production is already sold. Currently there is availability in early 2007. Contact me for current pricing and details.
New Lagoon Power 44 offered at 2005 LP43 prices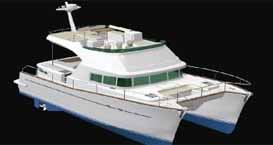 Lagoon Power 44

"Wow" is all I can say. The newly redesigned flybridge and salon in the LP44 is a huge improvement over the successful LP43. What's new? The flybridge is giant, including an upgraded windscreen, three bucket seats at the helm, large chaise lounge for two, settee with seating for eight and sun lounger cushions galore.

The lower inside helm has very comfortable adjustable seat and redesigned instruments cluster with full gauges and space for easy access electronics. The salon and cockpit share the same interchangeable table arrangement as the popular sailing Lagoon 440/cafe table. The new Lagoon Power 44 will be available in the U.S. in 2006. If you order yours now, it is the same price as last years LP43. Hurry! This offer from Lagoon won't last long!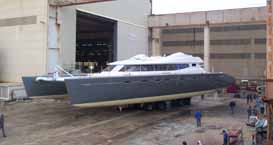 BluBay 100' Superyacht Catamaran




Mega-catamaran: Blubay 100



While in Paris I met with mega catamaran designer Jean-Jacques Coste to discuss the completion of 100' Blubay and plans for the Blubay 77. These impressive flybridge catamarans are built using resin infused epoxy and carbon fiber and the result is a very light yacht. The 77' weight is estimated to be 28 tons and the 100' is only 50 tons. The 100' has just rolled off the factory floor in Marseille, France.

This yacht will be launched in the next two months and will be available for charter this summer in the Med.
Blubay also has two 45 hydrofoil power catamarans under construction in South Africa.
We will also be onboard for the launch in Spring 2006. Contact me for renderings and pricing.





Privilege 745 Update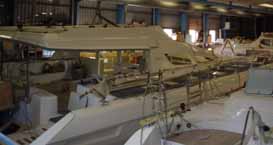 New Privilege 745 with Flybridge

The first Privilege 745 is well under way. I have just visited this yacht under construction in Les Sables d'Olonne and I am completely blown away at how spacious this yacht is for its size. The 745 represents the first flybridge catamaran designed by Marc Lombard to be built by Privilege. Currently Hull #1 is nearly completed and is available for sale. Launch date is scheduled for April 2006, Hull #2 is sold and #3 is available for sale and open for definition. Estimated completed price for this yacht will be $4 Mil. USD.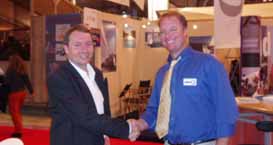 Marc Lumbard and Staley Weidman
I met with designer Marc Lumbard to discus other projects including the flybridge Privilege 615, 140' Maxicat and the recent success of monohull designs, the Jeanneau 391 and 42DS. For more information about these designs or to arrange a factory visit contact me.





ARC Catamaran News
On Nov. 20th the Atlantic Rally for Cruisers known as the "ARC Rally" departs in November every year from the Canaries. Many new yacht owners take delivery in the Mediterranean and in Europe in the fall and then plan to cross the Atlantic in the company of other cruisers. The organizer of this "race" provides safety support and an ingenious online tracking system for the rally participants. The rally finishes about two weeks later in St. Lucia where the celebration goes on for a week while competitors trickle in from the crossing for a well-deserved party and awards.
This year there are 232 yachts competing in various classes; there are 21 entries in the catamaran division. The field is comprised of 8 Lagoons, 1 Privilege, and 3 Fountaine Pajots. Currently the Lagoon 570 "Dada V" is leading the class and in third place is a very well sailed Lagoon 410 S-2.

If you would like to purchase your yacht in Europe and compete next year we will be happy to help you with your plans.

You can follow their progress by clicking the 'More' button below.