Lagoon Power 44
Introducing the newest design from the innovative team at Lagoon, the premier sail and power catamaran builder in the world!

It has all the same attributes that made the popular LP43 so successful and then some.

The fly bridge has been redesigned to accomodate a large dining table that will seat 6-8 comforatably and will include a wet bar option as well as three single helm seats forward on the bridge. This new power catamaran from Lagoon will make its US debut at the Miami International Power Boat show, February 16-20, 2005.


Quick facts about the Lagoon Power 44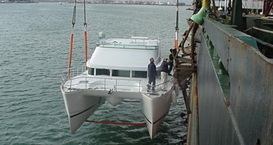 At the Helm station: a new instrument console capable of displaying 2 x 12" screens, an autopilot remote, 2 FFD, a compass, VHF, 2 engine panels (tachometer, fuel gauge, alarms), Throttle controls, horn switch, windlass remote control switch, plexiglass chart holder, drink holders, glove box, three individual helm seats.

Sunbathing areas: Designed for maximum comfort and efficient layout, a lounge chair style sunbathing area is located on the port side next to the helm station. Another sunbathing area is located behind the table seat backrests for another two people.
Fly bridge seats and tables: The seats are very comfortable and offer several storage compartments. A bar can house an (optional) refrigerator or be used for storage.



Spray windshield and handrail

.


The horn will be located on the Fly bridge arch so that it can face forward.



A new antenna and radar support

.

Power catamaran Wows streets of France

The Yellow Van in the back was the control vehicle in charge of coordinating the road delivery of the Lagoon Power Catamaran from the Factory to our French launch docks.

A police escort was put in charge of directing the convoy through the streets of france while giant hydrolics controlled by the driver allowed the convey to adjust the angle and height of the power catamaran as it maneuvered through narrow complex streets.

This specialized peration took roughly two hours to complete with zero damage to this high pefromance vessel.

Did you know?
Together with deliveries, our Catamaran Service department performs a wide range of functions including surveying, maintenance, dockage, insurance, yacht placement and performance data.

In fact, just about anything related to the multihull or catamaran within sales, charter or services is available from Catamarans.com. Now, you can go to one centralized web location to source your desired catamaran service.