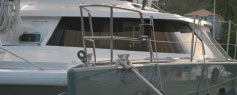 As far as modern blue water sailing goes, the popularity of Catamarans has escalated to the point that they are frequently the first choice vessel for charterers. Such is the demand, some industry players have built up their businesses based purely on multi-hull chartering, and the in the BVI it's the Catamaran Company that leads the way.
This high demand for charter catamarans has had considerable effect on both design and manufacturing elements of production, and competition has become fierce. "Off the shelf" purchase choices have always been plentiful, but now there is an increasing demand for custom and semi-custom designed catamarans. With this high demand in mind, the BVI Yacht Guide went Big Cat hunting.

A custom built boat is one where you have the choice of design, size, hull material, number of cabins and virtually anything your imagination can conjure up. A semi-custom built boat is a well-designed, limited production vessel with the options for cabin layout, interior materials, instrumentation, mechanical systems, sails and so on left for the new owner to decide upon. The Catamaran Company has considerable experience in helping new owners select their choice of vessel from both categories, and their knowledgeable staff are happy to help find the right boat for the owner..
Full-Service Safari

Crewed charters come in a variety of forms, from the bareboat skippered charter to the several hundred-foot luxury ship with dozens of crew, and you can spend a little or a lot on being looked after in the manner of your choice.
Each year, an enormous number of people seek to experience the places, islands and remote destinations usually only accessible to skilled sailors. With a crew to provide safety, experience and comfort, reaching these destinations becomes possible, and the only other limitation to consider is the potential discomfort of sailing. Catamarans afford stability quite elusive to most monohulls and this is one reason for their continued growth in sales.
Big Cats are generally considered to be upwards of 60'; and they are boats that have either been custom-built or, at the very least, influenced in aspects of design by the owner. Boats such as these are never offered as bareboats. Ordinarily crewed by a Captain, top-tier chef and professional crew, the levels of luxury and comfort provided, maintained and managed on these boats are extremely high.
Sleeker than a Cheetah

Our hunt took us to Catamaran Charters' dock in Nanny Cay and a French-built, aluminium-hulled Big Cat called "Wonderful". She is the first Yapluka 73 off the cradle and has been built to specific design. The project manager, who is now her captain, oversaw her construction, and she really is rather 'wonderful'.
Upon entering the cockpit, the feeling one gets is more of being on an entirely separate deck than in the confines of an operations room. This area has been designed as the focus of the social space. It features an enormous banqueting table, accommodating 8 or more guests, just begging to be covered with a lavish spread. A solid roof covers this whole area to provide protection from the elements, and the entire cockpit can be closed off and air-conditioned if desired.
The feeling of being on a different deck is partly created by the fact that there is no helm station in the cockpit. Instead, the boat is driven from the fly-bridge. Up here, the Captain can control virtually every system on the boat, including navigation data taken from the Internet. The Captain can also view all external aspects of the boat from fixed cameras - essential when docking a boat this size.
Aft of the bridge on top of the cockpit roof is a large sun deck. Looking down from the bridge, the vastness of the deck area becomes apparent. At 73' long and 37.5' wide there is certainly room to spread out.

To the rear of the cockpit is the aft deck. While under way, the tender sits here after being hoisted up by the built-in crane. While moored, the dinghy can be removed to create what could be a reception deck, a sundowners deck or even an after dinner deck, you decide. This splendid combination of space and comfort is almost on a par with that of a superyacht.
With all the pristine teak decking, the excellent, discreet service and the gadgetry, you'd be forgiven for believing you were on a superyacht. The saloon can be entered from the cockpit. To port, there is what could be likened to a coffee lounge or reading area; low comfortable seating around a small table inspires lazing around with a good book. Guests can also be seated for dinner very comfortably in the saloon should it prove necessary. The yacht's systems are managed from the control desk set to starboard.
Three guest cabins and the owner's cabin are located on the starboard side. To port, forward of the enormous galley, the crew are housed. There's a final guest cabin aft. All cabins have flat-screen TV and Sony Playstation consoles, and the owner's cabin also features satellite TV.
The galley has been specifically designed with professional catering in mind and features include a full-sized cooker with oven, and a full-sized dishwasher, amongst many other laboursaving devices.
Every part of the boat is air-conditioned. The two generators have been discreetly housed away from the guest cabins so as not to disturb the slumbering inhabitants.
Queen of the Pride
You are never likely to be bored on "Wonderful"; she carries a multitude of "toys". A variety of watersports can be enjoyed: how about being towed behind the 15', 90hp RIB on an inflatable chariot, kneeboard or skis? Or perhaps you might like to try diving, if fun under water is more your style. If you prefer catching fish to watching them, there is a custom sports fishing chair that can be mounted on either transom. If your idea of relaxing is lying in a Jacuzzi, then go ahead, you can do that too.
To the owner, one advantage of buying a boat like this is having the ability to choose how it is set up. Although not all manufacturers will allow an outside project manager, they will allow individual design preferences assuming they are actually possible.
Privilege, Lagoon and Yapluka, amongst others, see a future for these big cats as this particular aspect of the charter market becomes ever more popular. In Big Cat terms, these manufacturers offer several choices between them. The Catamaran Company knows them well and can advise on the design alterations that can and do work. Through managing several of these types of boat in the BVI, they also provide the opportunity to try before you buy. So, if a Big Cat is what you're chasing, come on down to the BVI and join the hunt.
Reprinted with the kind permission of the BVI Yacht Guide