Waypoint ready to depart from Azores
By Robert Kaper
Waypoint, Lagoon's first Solomon Technologies-powered cat, made a record-setting, gale-filled maiden voyage in October from France to Annapolis USA. Then she took a more leisurely cruise in November to Tortola, BVI where she has now gone into charter service.
On the trip over from France - the first-ever transatlantic crossing by an electric cat - Waypoint was sailed by a professional crew, booked by The Catamaran Company, Lagoon's largest U.S. dealer. After a couple of weeks rest and refitting in Annapolis, 0wners Dennis and Denise English brought another professional crew aboard the Lagoon 410 for the second leg of the nearly 5,000-mile voyage.
"It worked just like it was supposed to," Denny said of the Solomon Technologies electric drive system. "There were 18-foot swells at times, and we could see on the meters how the motors would draw current as they helped push us up the wave. Then, when we surfed down, the numbers turned positive as they regenerated electricity. It was exactly what Dave said would happen."
Dave Tether, the CEO of Solomon Technologies, calls it regenerative motorsailing. "Our motors work as either motors or generators, and you leave them on all the time. Even though you're motor-sailing, all of your energy comes from the wind."
The Englishes hired a professional crew for their first Waypoint trip, because they had never sailed offshore before. "That's a big ocean out there," Denny says, "and we wanted to make sure she was in experienced hands."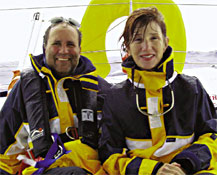 Denny and Denise English
heading accross the Gulf Stream
Putting the motors in step
The crew, Captain Scott Vanerstrom and First Mate Michelle Lundin, both had their first experience with regenerative motor-sailing on the Tortola trip, however, Tether had briefed them on it before they left Annapolis. "I call it putting the motors in step," says Scott. "If you set it just right, you get Scott. "If you set it just night, you get a zero net use of electricity. And you also get an additional one-half to one knot of boat speed. There's a net speed increase," he explains, "because the electric drive motors maintain boat speed even while climbing a wave or during lulls in the wind. That prevents apparent wind from moving aft, as it would if the boat slowed down, and keeps the sails drawing efficiently. It keeps your sail trim optimized."
At 41' overall, with a 23-foot beam, Waypoint has the largest system currently available from Solomon Technologies: twin 12 hp ST 74 electric motor drives, a storage pack of one dozen group BD AGM batteries, and a 15kw HFL diesel generator to recharge the battery pack when there is not enough wind for regeneration. The company expects soon to start selling a new 20hp motor for larger boats.
Waypoint made the 1,440 nautical mile trip from Little Creek, VA to Jost Van Dyke in the BVIs in the respectable time of eight days and two hours, Denny says. "There's a race called the Caribbean 1,500 that follows basically the same route," he notes, "and it takes them anywhere from 8 to 12 days. So, we feel pretty good about our 16 trip."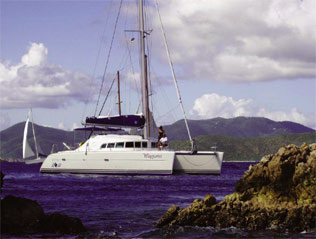 Waypoint at the Indians
Transatlantic record
Although it was the Englishes' first trip aboard their new vessel, it was Waypoint's second blue-water voyage. The Catamaran Company's transatlantic crew, Royal Yachting Association Captain Jorge Ventura of Alcobaca, Portugal, and First Mate Tommy Lee of Liverpool, UK brought the big cat over from France in record time, hitting speeds that Captain Ventura had never seen before in a Lagoon.
Once they found good winds off the Azores, they motor-sailed all the way across to Norfolk-without once using the generator. Regeneration supplied all the electricity they needed. "That's a brilliant thing, that regeneration," says Jorge. Tommy agrees. "It's like magic."
In the open Atlantic Waypoint had more than enough wind for regeneration. The anemometer maxed out at 57.5 knots. Along the way the crew encountered three gales. "We had gale seas crashing over the boat," Jorge says. "Not just spray, but solid water." But the sturdy Lagoon took it all in stride. The crew sailed her hard the whole way, heaving to only once for an emergency repair to the main gooseneck, which had sheared a clevis pin.
Too much at times
Jorge says there were times when he could have done with less regeneration. In prolonged high winds he grew concerned that the motors were overcharging the battery pack. He and Tommy turned on the air conditioning and hot water heater, and often motor-sailed at full throttle to drain power. "It put a few knots on her, didn't it?" says Tommy. Neither man had been in a Lagoon that traveled that fast before, but Jorge says there were a couple of times when he would have been happier going a lot slower. Tommy says he didn't mind the extra speed though. "I thought it was great." Over dinner with the crew in Annapolis, Tether explained that they could have stopped regeneration by setting the motors' throttle controls to reverse so they opposed the rotational torque from water rushing by the props. "Unfortunately, we were all in such a hurry to get the boat ready for the Annapolis Sailboat Show," Tether says, "there wasn't an opportunity to brief the crew fully on the STI system."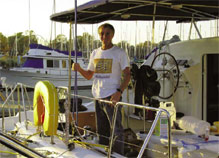 Mate Tommy Lee
No compromise on electricity
On Waypoint's trip to Tortola, the Englishes didn't encounter the winds that Jorge and Tommy had, so they felt no need to slow the boat down. They took hill advantage of the power produced by the motors. "She regenerated more than enough electricity," Scott says. "We never had to compromise our electricity usage in anyway." The crew and passengers made heavy use of the luxury cat's deep freeze, refrigerator, two computers, flat-screen TV, DVD player and stereo system.
In a traditional boat, Scott points out, it's necessary to fire up the generator (or engines) once or twice a day to top up the house batteries. "But in this case, we didn't have to do it." In fact the sailors on the Tortola leg occasionally turned on the air conditioning and water heater and cranked up the motor to drain off excess electricity from regeneration, just as the transatlantic crew did. "But that just added another knot to the speed we were already making," says Denny.
The trip to Tortola included two extended stints of motoring with the generator running: the first was 24 hours of motor-sailing after leaving The Chesapeake Bay Bridge-Tunnel in order to get across the Gulf Stream as quickly as possible. The second was a long windless stretch between the front they had been riding and the trade winds when Waypoint motored for 30 hours with sails down With the motors drawing 42-43 amps, the boat generally ran at speeds from 7.5 to 8.5 knots. Fuel consumption, while motoring with the generator, was 1.3 to 1.4 gallons an hour. Scott points out that this consumption rate is less than with the Lagoon 410 s standard twin 40hp diesel installation. "Each 12 hp motor is equivalent to a 40 hp diesel," he says, "and you'd burn about 0.8 to 1.0 gallons an hour in each diesel engine to reach the same speed."
"We actually used the generator a lot more than we really needed to," Denny adds. "But this was our first trip, and Scott was extra-conservative at the beginning. He wanted to make sure the batteries were fully charged at all times. "Scott agrees that he initially ran the generator more than required but says he did it "just to be on the safe side. "Except for the windless days, he says, "We probably could have gotten by without it."
Overall fuel consumption on the 1,400-mile voyage showed how little they depended on the generator.
"We used a total of 90 gallons of fuel," Denny says, "which we thought was pretty good. I ran into one guy down there in a 40-foot cat with conventional diesels, and he said he had burned 400 gallons on the same trip." Scott adds that only about half of the fuel consumed by the generator was necessary for propulsion. The rest was used for luxury items, mostly the air conditioning and water heater.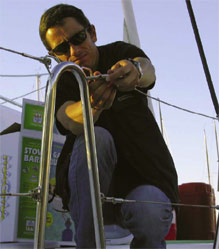 Royal Yachting Association
Jorge Ventura
Sea unspoiled by noise and fumes
Without the noise and fumes of conventional diesel auxiliary engines, there was nothing to spoil the natural beauty of the open sea, even though the electric motors ran the entire trip. "I had the night watch from 3 a.m. to 9 a.m.," says Denise English, "and I couldn't hear them at all on deck." What she liked most about the trip, she says, was "the quiet and solitude of sailing at night, then seeing the sunrise in the morning and watching the ocean change. I never got tired of it."
There were times in the middle of the night when it was so quiet, she says, "I felt as though I could hear voices from the water. "She admits it was probably just the gurgling wake but adds, "now I know why people believe in mermaids. I told my husband and Scott about it, and they just laughed. But when I told our First Mate Michelle, she said she knew what I was talking about. She'd heard them too."
Denise also appreciated the elimination of much of the routine daily maintenance required with conventional diesels. "This was our first trip on a boat with just a generator," she says. On past catamaran charters, they had to conduct oil level and belt checks in the awkward and sometimes exposed confines of each hull's engine room, It was especially difficult while underway. But, with no propulsion engines and only a single generator, routine checks were simple. "We just opened the front locker by the anchor windlass."
Although all agreed that Lagoon's first electric cat performed admirably over the combined 5,000 miles of open ocean travel, Waypoint did have a few teething pains. "It was a new experience for everyone," says Tether, "and it disrupted normal operating parameters. Something's always going to be overlooked on the first one."
I thought you filled it.
The first thing overlooked was a classic: someone forgot to fill up the diesel furl tanks before the boat was launched at Les Sables d'Olonne in France. Soon after Tether and Catamaran Company President Hugh Murray started up the generator in preparation for the initial sea trials, the tank ran dry and air was sucked into the fuel system. The fuel pump in the tank below the floorboards wasn't strong enough to move fuel past the air lock and up to the generator, which is located in a front cross beam locker.
They decided to take Waypoint out anyway without a generator, and she ran fine for hours - even though the batteries were almost completely depleted. On their way back, Bruno Belmont the chief designer for Lagoon's parent company Beneteau, took the helm, He had the boat moving so fast under power that French marine police pulled her over for speeding. "We were all congratulating ourselves because the motors had performed so well," says Tether, "when all of a sudden we heard that unmistakable whoop, whoop, whoop' sound. There was a five-knot speed limit in the channel heading back to the pier, and we were winging along somewhere over six but, the motors were so quiet we hadn't realized how fast we were going."
Tether says he knows they should have been remorseful about breaking the law. "But, instead, we were proud of ourselves. Hugh and Bruno were looking at each other and grinning from ear to ear. We were all thinking the same thing' 'Ain't this something? Batteries almost gone, and we're going too fast."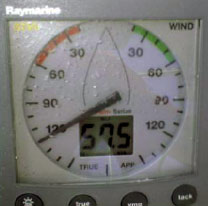 Maximum anemometer reading
during transatlantic crossing
More to come
Although that first day on the water ended up as a great success, the fuel problem was a portent of things to come. After the fuel system was repaired, Captain Jorge Ventura and Mate Tommy Lee set out into the Bay of Biscay for the long trip to Annapolis. They first headed south along the coast to pick up favorable winds and stay close to shore for assistance in case of further problems. Winds were light, and they had to motor by using the generator, which eventually began to overheat. They put in to La Coruna in Spain to try to diagnose the problem with Tether and Lagoon engineers by long-distance telephone.
After a temporary fix, they set out to sea again, but the overheating continued. Finally, they put into the Azores and called for an engineer from HFL, the generator manufacturer, to fly down from England to meet them. It turned out that there was nothing wrong with the generator. Fixing the problem was simply a matter of cutting additional ventilation openings into the generator compartment and installing another pump to get fixed up from the fuel tank to the generator.
They set out from the Azores in light winds and again had to motor under generator power. This time it worked perfectly. When the wind finally picked up off the Azores, they shut off the generator and regenerated electricity the rest of the way across. The generator wasn't started again until they reached the Chesapeake. The Bay's notoriously fickle winds were elsewhere that day, so they motored north under power to Annapolis. A Solomon Technologies crew met them there and installed the correct external breathing ports, which should have been on the boat from the beginning.
"Ventilation for the generator was just overlooked during the installation," Dave says. "That's why we wanted to give this first electric Lagoon a blue-water workout with a professional crew to sort out any problems that might arise before turning her over to her owners."
A side benefit of the unplanned time spent motoring about in European ports was the opportunity for the crew to discover how easy it is to handle a boat with the Solomon Technologies system. "The power is amazing from only 12 horsepower," Jorge says. "For maneuvering at close quarters, it's beautiful. Just push the lever back and forth." He says electric drive is a big contrast to the diesel auxiliaries he's accustomed to working with - which must first be started up, then worked through neutral from forward to reverse gear and back. With the Solomon Technologies system, he says, "you have immediate power and torque. Whenever you want it, it's there." The same thing is true under sail, he adds. "It's always on, so if you miss a tack you have the power tight there. Just push the lever."
Problems on western side
Waypoint also encountered a few problems on the western side of the Atlantic. The day before the Englishes were to depart from Annapolis, a shear pin broke when Scott was test-sailing the boat, and the motor shaft coupling was damaged. "There was no stress at all on it at the time," says Denny, "we were just backing into a slip." But the boat had just completed a 3,500-nautical- mile Atlantic crossing with the motors on all the way, he points out, "so it's not surprising that there was some wear and tear on the system."
Scott feels that a major contributing factor was the irresistible urge in everyone who took the helm to perform "crash stops" with the powerful Solomon motors. The motors produce "a ton of torque," Scott says. "People were pushing the throttle from full forward to full reverse in both France and the Chesapeake. My comment to Dave and Hugh was 'that shouldn't be happening because all that torque has got to go somewhere.' We found out later where it went."
Tether concedes Scott's point, but adds, "It's too hard to resist when you take the helm. You can shove the throttle control forward, and the boat instantly surges through the water. And then, because the motors can switch directions in milliseconds, you naturally get the urge to jam it into reverse to bring her to a screeching halt. Let's face it It's fun. And it's something you just can't do with a diesel." Under those conditions, it's not surprising that the shear pin did what it was supposed to do. It sheared. "We learned where the weak link in the chain is," Scott notes wryly. But with "proper operation," he adds, the pin probably would not have failed.
Another problem cropped up after they had spent some time in the warm waters of the Caribbean. One of the motor controllers overheated and tripped out. "The water temperature there is 85 degrees," Denny says. "So it was quite a different environment from up north where the cold water could dissipate the heat." There are two 6hp motors on one shaft inside the 12hp casing, and each is operated by its own controller. With one controller down, Scott says, "I lost 50% of the power on my starboard engine." He throttled back the port motor to match the starboard's amperage draw, he says, "and even so our boat speed was in excess of six knots."
In both cases, Denny says, Solomon Technologies "was there when we needed them." The company overnighted shear pins and a new coupling to Annapolis, and Scott was able to fix it the next day. And when the controller overheated in the islands, a Solomon technician flew right down to repair it. All it took was adding a ventilation fan to cool down the engine room. Says Denny, "As a consumer, you really appreciate it when a company stands behind its product like that."
Additional virtues
When Waypoint first arrived in the Virgins, the Solomon System revealed additional virtues, Denny says. "There are a lot of boats down there sailing between the islands. An empty mooring buoy isn't always easy to find." As they headed into Norman Island for their first stationary night after 1,440 nautical miles of sailing, they were in no mood to spend hours searching for an unoccupied mooring. "So we cranked the motors up to beat the rush." Because there is no noise or exhaust from electric drive, it looked to other boaters as if they were moving under sail alone. "We were just blowing the doors off everyone else."
Captain of choice
It would have been hard to find a more capable Captain for the first electric catamaran than Scott Vanerstrom, who took Denny and Denise English to Tortola. Scott, the principal North American Captain for The Catamaran Company and Lagoon, figures he has logged a quarter of a million blue-water miles, nearly 200,000 of those in catamarans. He's made he transatlantic crossings and three Transpacs, sailed from South Africa and Brazil to Annapolis and from San Francisco through the Panama Canal to Miami, has been to virtually every eastern U.S. and Caribbean port and sailed in the South Pacific in Tahiti, the Marquesas, the Formosa Strait, Bali and the Komodo Islands.
But the Englishes say his seasoned boat-handling skills are only part of Captain Vanerstrom's repertoire. He's also an excellent cook. "He's owned restaurants in Colorado, and his brother went to the Cordon Bleu cooking school," Denise says. "He brought me coffee every day on my 3 a.m. shift, made omelets for everyone in the mornings and even cooked Thanksgiving dinner. Once he came up to me and asked where the emergency through-hull plugs were. I said 'Why? Are we taking on water?' He said 'No, I need them to mash the potatoes'." Denise says that Waypoint encountered a few squalls, with winds approaching 35 knots, that ordinarily would have caused her some anxiety. "But Scott had explained beforehand what would happen and how we would handle it. So even the squalls became nothing more than just another nice challenge. He's very patient, never harsh, always on an even keel, a great teacher." Adds Denny: "Plus he can fix anything. He's just a great captain."
In the mooring area of Norman Island bight, the fingertip control of the twin Solomon motors made it easy to thread through the boats already tied up, to find an open buoy. Other boaters at the mooring asked many questions about the Solomon Technologies system, and they spent a lot of time explaining how it worked.
Once Waypoint was secured, the crew felt that their successful trip called for a celebration. They made their way to that venerable Norman Island institution, the Willy T floating bar and restaurant. There they spent the rest of the night "partying like Australians," Denny says. "We really needed it. We all felt it was quite an accomplishment for a new technology like this to travel 5,000 miles." There were "a few little lumps' along the way, he says, but "that's what a shakedown cruise is all about - shaking out the lumps."
Scott agrees. "Obviously with a brand-new system, you're going to have a few hiccups. But, once we left Norfolk and headed out to sea, it gave a flawless performance in the vessel."
Regenerating around the world
Captain Jorge Ventura was equally impressed during his transatlantic crossing. In fact, he likes the system so much he's now looking for sponsors to back him on a solo circumnavigation in a Solomon Technologies-powered boat. He notes that despite Portugal's centuries of seafaring history, no Portuguese sailor has ever circled the globe alone. He wants to be the first, and he wants to do it without a generator. He's convinced that regeneration under sail with the Solomon motors will supply all the electricity he'll need.
"These are captains who have logged hundreds of thousands of miles on the open ocean," says Tether "It's one thing for people to say that I'm blowing smoke when I rave about the Solomon Technologies system. But, these are guys whose opinions you have to take seriously."
And those opinions can be summed up very simply. As Scott puts it, "The bottom line is, these motors are wonderful."
Waypoint can be chartered from Tortola during the fall and winter through The Catamaran Company