Happy Spring ! We are glad for DLST…for us it means we can see the beauty of God's world for another hour a day…while we still enjoy the moon and stars and seeing the bottom of the ocean when there is a moon….albeit the bottom is 15-30 foot down !
March is un-describable on Stocking Island, in the Exumas….You have to experience it to understand it. The very famous Georgetown Regatta is a very busy time. All kinds of activities beginning with the Pass and Review of the Fleet…We were fortunate to have several native Bahamians on board for our "pass and review" (We passed by the King's standards, but several sailboats ran aground….pays not to have such a big thing on your bottom like Bad Boy does!) Again, we enjoyed the Bahamians' company tremendously. Julius, Krystal and Randy et al were such great company, and friends now for life!
After the pass and review of the fleet, we put 700 coconuts in the water and raced to see who could pick them up the fastest. Not much fun, as sailboaters are too quick and it was almost over before it started! We had bocci, softball, volleyball and Texas hold 'em tournaments and the list goes on and on….The pet parade warrants description….I have never seen so many dogs in sailor's suits with sun glasses on. However, what got our hearts was the two children who had conch shells on leashes parading them around as pets ! (Quite creative!) . The children home schooled here on boats are so amazing….
We also have to brag that for the first time in history the annual softball game between the "Cruisers and the native Bahamians" was won by the CRUISERS…Of course it was rigged, as you should have seen the Bahamian team…true to style they arrived late (island time, again, folks!) and looked like they were the heavy weight wrestling team…Our team (the "cruisers", mostly over 55ish, many in their 70's) put on a comedy softball show with a Blues brother in suit as empire, and our very own Sue……She warrants another whole issue of "It's better in the Bahamas", but that is for later. Mark played 3rd base and made several great plays…. Gwyn was a bleacher cheerleader for the Cruisers. Catherine, Josh, Bad Boy, Rich, Tangelo, and many had fun…..
A really nice thing we did at the end of Regatta was to volunteer at the "Variety Show". This is a show put on by the Cruisers (i.e. us sailors) to benefit the "Family Regatta", i.e. the native Bahamian Regatta… As is his tradition, Mark bartended at the Variety Show, but Gwyn wasn't invited to dance (what happened to those legs?)... she sold tickets! (Boy, does Gwyn miss the Rose Valley Variety Show where her legs are appreciated!)…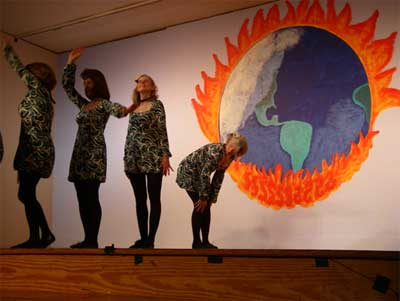 (Rose Valley Variety Show, 2008..in case you're having difficulty Gwyn's legs are on the far right)
Mark went all out for Regatta…he signed up for several events…Race around the island (see below), bocci (he made quarter finals; Gwyn got eliminated in the first round), softball and competitive volleyball (total opposite of Fun-volleyball) …So folks, my Markie got a concussion and a fractured toe in the practice session of competitive volleyball (didn't even get to play. You should have seen the other guy, Eric, with ice packs over his entire body...the nurse is called to duty again with her conch cracker as a reflex hammer and ice pick as a sensory tool! Fortunately, Mark is almost healed. No one has seen Eric since the event?)
Mark signing up for everything at the Regatta, 1968-2009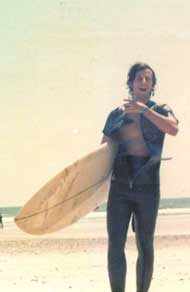 Meanwhile, we won the Regatta Sail Around the Island Race/Fishin' contest (had you any doubt?) with one of our smaller catches… a 37.5 inch (dolphin) mahi-mahi…From what we are told, it has been years since a fish was caught in the sailboat race around the island…But the best thing was having 14 folks for dinner to eat the thing….The brochure is correct…."You can cater for a large crowd on the Robertson and Caine Leopard Sailboat". Because we were so busy catching a fish, we lost the concurrent sailboat race and the baking contest….Many people decided the entire contest was rigged as Gwyn's fruit pizza had to be the most delicious and unique baked thingee…….and brownies out of a box won ?????? (This is a sore subject, but she will continue to cook and bake anyway as she always does…(Girleees..Imagine… baking such a delight while 7 men sailed your (one) boat, loosing the race, and caught one (1) fish, the winner, while you cooked this beautiful fruit pizza for the masses, i.e. 300 sailors! Oh, please…..)

Thank you Melvin and Morrelli for designing my small kitchen (aka galley)

March was good to us also in that it brought us Josh. How many people have you known that crewed on Larinda? (Mark and Josh!). Josh is a most sincere, wonderful young man from South Carolina, who was a crew member like Mark on Larinda, a tall ship, only at a different time (boy those stories are history!) Interestingly, their lives intersected at the same helm and in the same berth on different years. We so enjoyed having Josh with us, and thank Catherine for introducing us to Josh.
The thing that didn't go well for us during March was our performance at Trivial Pursuit on Sunday evenings…we seemed to have a worse score each week, and finally Kathy designed a booby prize for us (Candy canes!) It was so bad, that one Sunday night I said "I'm not going…it is embarrassing and no longer fun", and then on the marine radio (Channel 68) for all to hear, we hear, "ALA, ALA, get over here…we need a looser!" I try to rationalize this by saying our minds are full of important things, not trivia! So be it…it is just not our game..
Many people start leaving the area in March as The Bahamas is where people go for the winter….At beach church we sang a song in March that I want to share with you. Beach church will still be there, but people move on………….
FRIENDS
I'm counting up what I got to show for all this time afloat
A dog-eared passport, a very weathered face, and a great boat
A story or two that might be true and many a battle scars….
Days of sparkling waters and nights of moon and stars
We've got sea-shells, we've got souveniers; We've got songs Gwyn penned…
We've got photographs, We've got memories, but mostly,
WE'VE GOT FRIENDS
(Adapted without permission from Eileen Quinn's "Not to be used for Navigation")
We were truly blessed to meet the folks at Stocking Island, and become part of a community which we hope to have the opportunity to join again….
March brought us home for 2 weeks (taxes, medical appointments, work, etc). The most wonderful things are to see our neighbors and hug our birds…We are truly blessed to live in "Walleyworld, aka Wallingford" which we would not trade for anything …But consider, how many people in the world get to sit and hug God's angels from heaven? When was the last time you sat still and cuddled with a bird? It is, I must say, a wonderful and peaceful experience few ever experience and for which we are thankful. While no children, we do have 4 parrots who are our children for life….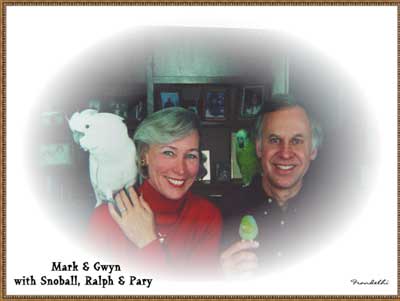 So, for now, we will give thanks under the casarenna trees back on Stocking Island, in the Exumas, and be happy that we experienced this unique world … just a fragment of the wonderful Bahamas……and a wonderful life... Thanks for listening, THE END…
Mark and Gwyn Vernon
March 2009