Michael has been sailing since 1975 and built his first 12 ft. sailing dinghy at the age of 15. This led to the intention of becoming a Naval Architect and he designed a 65 ft. ketch similar to the classic beauty, the Swan 65.

Camper & Nicholson' encouraged him to continue but Michael decided that sailing and building were more fun and went to a Marine College in South Hampton and studied "Yacht & Boatyard Management", a course that covered all forms of construction, design, naval architecture and production management. Michael graduated 2nd in his class with a degree in Boat building which still provides him with an extensive knowledge base for all types of boats.

Arriving in the Caribbean in 1981 after his first offshore delivery on a C&C 36, he realized that sailing was a much more fun and practical way of getting around. Deliveries on yachts from 50 ft. to 68ft. became his means of travel between the Caribbean for the winter seasons and New England for the summer. Eventually, Michael was offered a full-time crewing position on an Irwin 65 Charter Yacht. The Caribbean racing circuit was his way of improving his sailing skills. Yachting took Michael across the Atlantic three times, to and from the Mediterranean, up to New England via Bermuda and back, and to Australia, often as skipper.

His ocean miles exceed 85,000 as crew and Captain. Power yachts also were part of his experience, ranging up to 156 ft.

Michael and his wife left the yachts in 1995 when they received their 'Green Card" and began a family in South Florida.

Michael joined The Catamaran Company in mid 1996 as the purchase, warranty, dock, technical and service manager. Then in early 1997, he changed 'hats' and became a yacht sales broker. Having been a devout monohull sailor, Michael can honestly say that his first experience sailing a catamaran was an "epiphany"! "I spent too many years of my life at an angle," he says, "plus, now my wife enjoys sailing with me".

Michael likens the renaissance of the catamaran to that of the aero industry. "Originally, purists thought only travel in propeller planes was flying and jets would never catch on. Catamarans are now those jets! Welcome to the Jet Age!!"

Follow Michael as he goes into the "Space Age" of catamarans with Power Cats. He also has great knowledge about the Multihull Super yachts, having researched much of it, and having been on charter on the 138 ft "Douce France" with clients. He keeps up on many of the new designs and yachts coming out.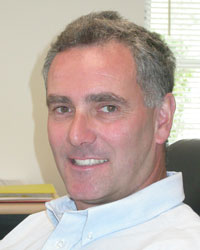 Michael Harris
Yacht Sales Broker in Fort Lauderdale
Lauderdale Marine Center
2019 SW 20th Street Ste 300,
HOUSEBOAT DOCK D
Fort Lauderdale, FL 33315
Phone: (954) 449-4647
Cell: (954) 609-2563
Email: michael@catamarans.com
Helpful Links

General Links:

Sailing School – Coming Soon