Catamaran Charters at Pier 7 Resort Marina!
48 S. River Rd. South Edgewater, MD 21037
It's no secret that the Chesapeake Bay is home to some of the best sailing destinations in the United States – Annapolis, Maryland is America's Sailing Capital after all! We've put together some great resources and suggested itineraries for your charter experience.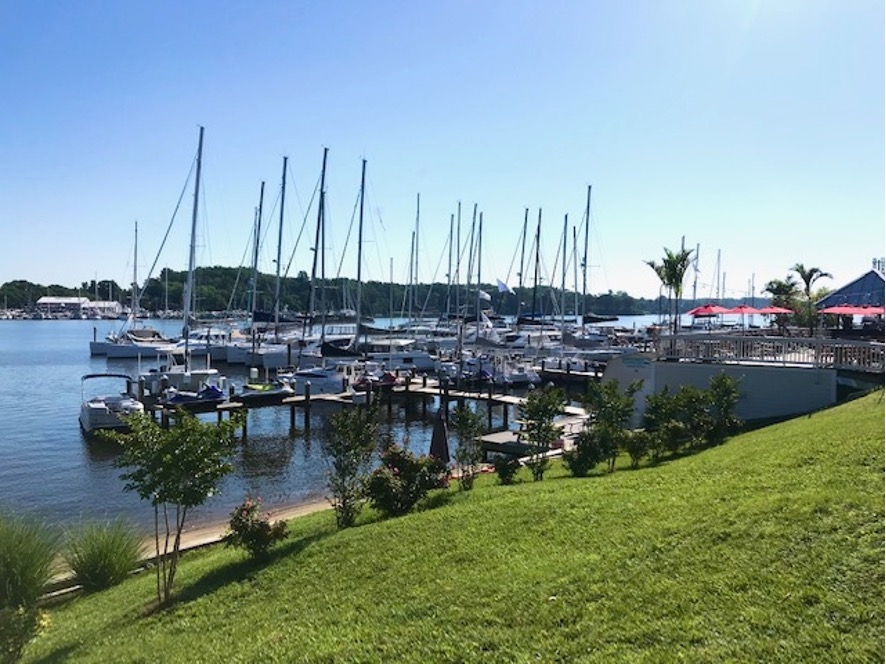 PIER 7 AMENITIES DISCOVER EVERYTHING @ PIER 7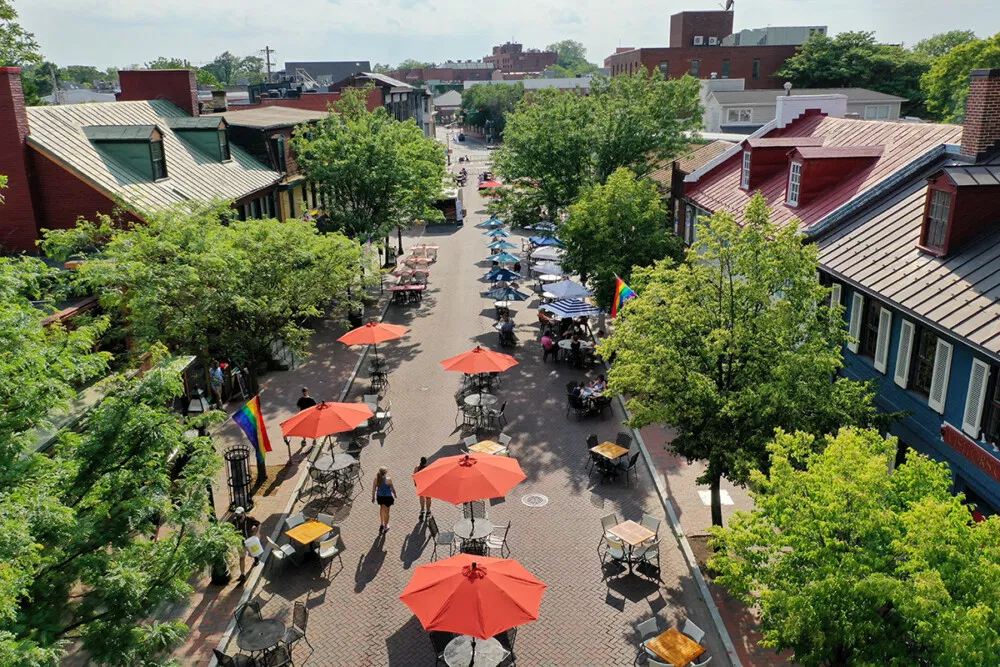 DINING & GROCERIES RESTAURANTS & GROCERIES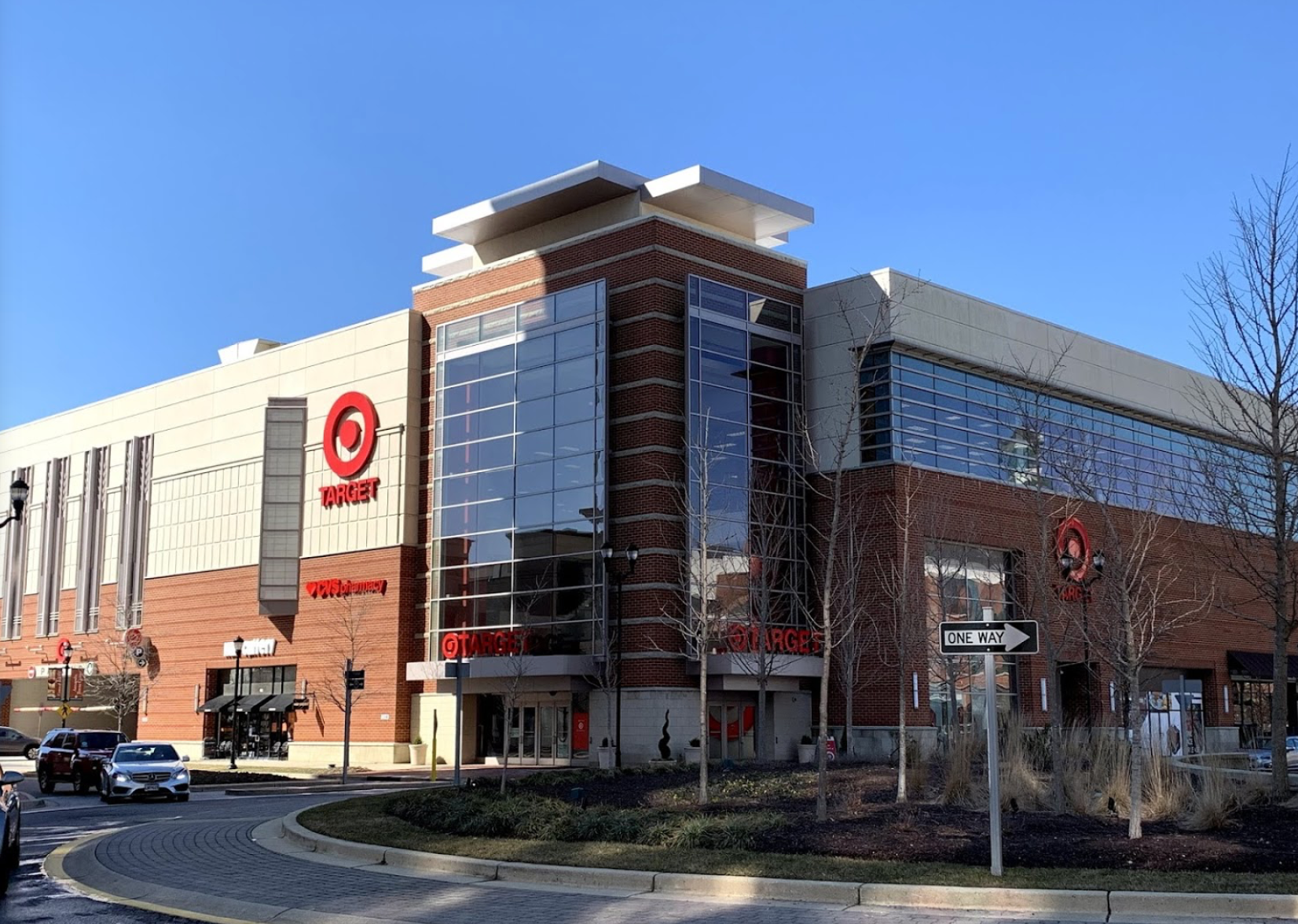 LOCAL SERVICES SUNDRIES, SUPPLIES, MEDICAL, ET AL.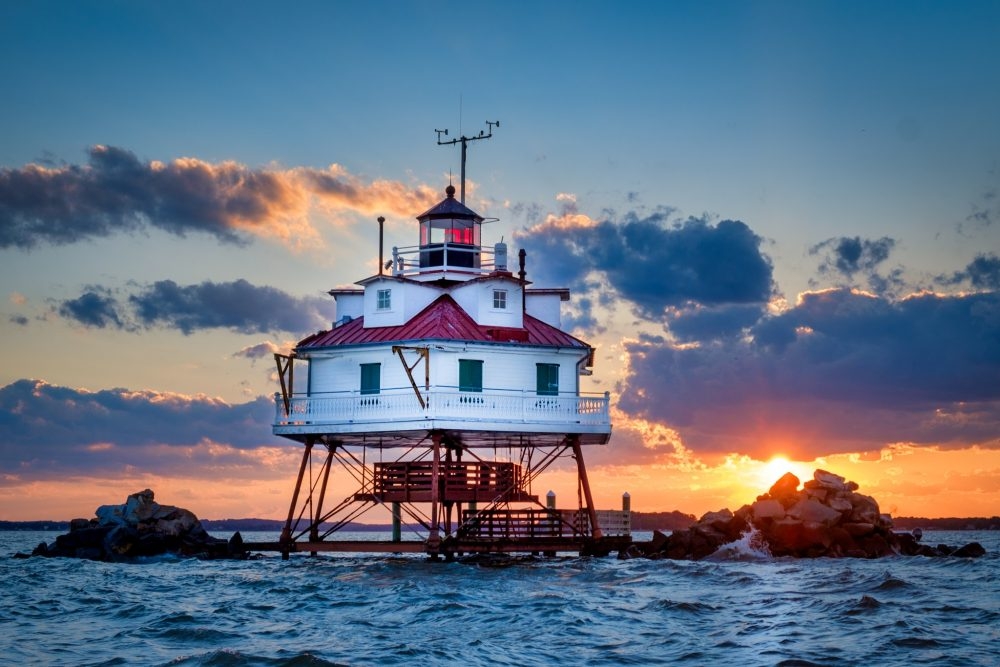 DESTINATIONS CRUISING THE CHESAPEAKE BAY
Here are some of the amenities on the property at our charter base, Pier 7 Marina, that you can enjoy before, during or after your charter.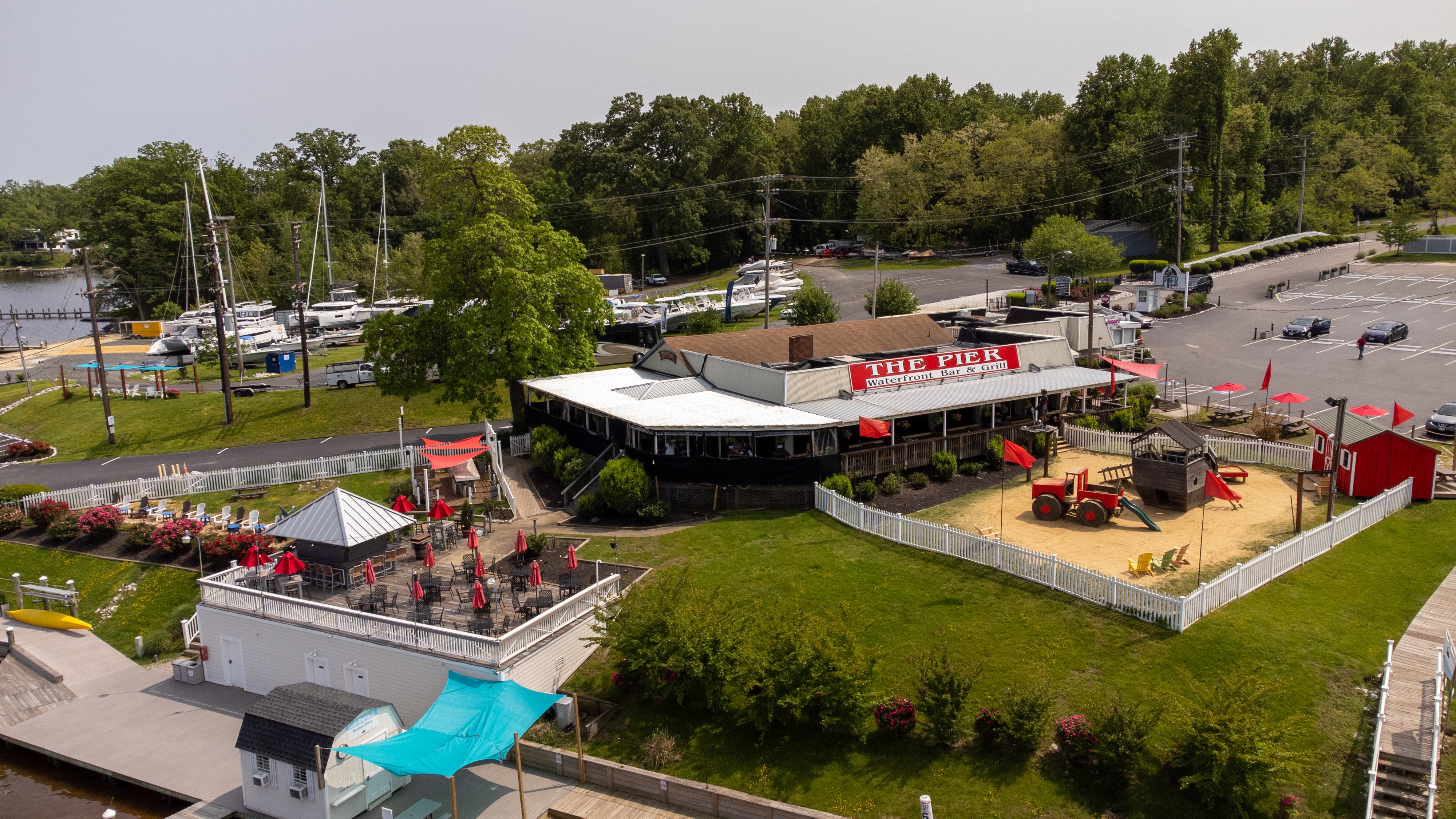 PRIVATE BEACH
Get the grill ripping, pop open a cold one, listen to the live music from the The Pier restaurant, and - if it's a little chilly - stoke up a fire with the provided wood in our fire pits. You are welcome to use the beach chairs, picnic tables and grills. Kindly leave our little beach area as you found it.
PADDLE-BOARD & KAYAK RENTALS
Our on-site paddle board and kayak rental is the perfect place for you to rent a couple of boards or even get you and your dog out on a kayak. Whoof on the Wharf is a brand new concept for those who want to create avenues for dogs to be more a part of their humans' lives, and to create opportunities for like-minded dog lovers to socialize. http://www.piersevenmarina.com/sup/ Whoof on the Wharf +1 (667) 777-2275
JET SKI RENTALS:
Let the kids explore the river on a jet ski while you get your provisioning done. https://www.piersevenmarina.com/jetski South River Jet Skis (410) 212-4202
Local Dining & Groceries - all within a few miles of Pier 7 Marina
CVS Pharmacy
410-798-8715 3054 Solomons Island Rd., Edgewater, MD 21037
Target
(443) 837-3540 1911 Towne Centre Blvd Annapolis, MD 21401
Dunkin Donuts
(410) 956-1176 033 Solomons Island Rd. Edgewater, MD 21037
Giant Food Grocery Store
410-956-7472 13 Lee Airpark Dr, Edgewater, MD 21037
Whole Foods Market
(410) 573-1800 200 Harker Pl Ste 100, Annapolis, MD 21401
Fresh Market
(410) 573-9700 2504 Solomons Island Rd, Annapolis, MD 21401
Olde Solomon's Wine & Spirits
410) 956-4054 3070 Solomons Island Rd, Edgewater, MD 21037
Starbucks Coffee
410-956-8206 3059 Solomons Island Rd Edgewater, MD 21037
Destinations
Our charter base at Pier 7 is located in Edgewater, MD about a 15-minute drive from Annapolis. Annapolis offers history, incredible beauty, excellent dining, and a proud maritime tradition. One of the oldest and best-preserved towns in North America, our local pubs have been visited by George Washington and other prominent figures of colonial history. The United States Naval Academy is based here - right on the Severn River. Dining options abound, with some restaurants within a 5- minute walk from our docks. From Pier 7 Marina, you are a short sail to Saint Michaels (southeast), Rock Hall (northeast), Annapolis, Galesville and the Rhode River (southwest) for your first night out.
Suggested Charter Routes
White Charter:
Edgewater/Annapolis to Galesville: 10.7nm (1:40) Galesville to Tilghman Island: 16.7nm (2:30) Tilghman Island to Oxford: 12.2 nm (1:50) Oxford to Cambridge: 11.7 nm (1:50) Cambridge to Solomons Island: 41nm (6:15) Solomons Island to Deale: 38 nm (6:00) Deale to Edgewater/Annapolis: 19nm (3:00)
Blue Charter:
Edgewater/Annapolis to Rock Hall: 26nm (4:00) Rock Hall to Baltimore: 21nm (3:15) Baltimore to Sassafras River: 35nm (5:30) Sassafras River to Warton Creek: 13nm (2:00) Warton Creek to Edgewater/Annapolis: 40nm (6:00)
Black Charter:
Edgewater/Annapolis to Galesville: 10.7nm (1:40) Galesville to Wye River: 25nm (4:00) Wye River to Saint Michaels: 9nm (1:20) Saint Michaels to Rock Hall: 25nm (3:45) Rock Hall to Edgewater/ Annapolis: 26nm (4:00)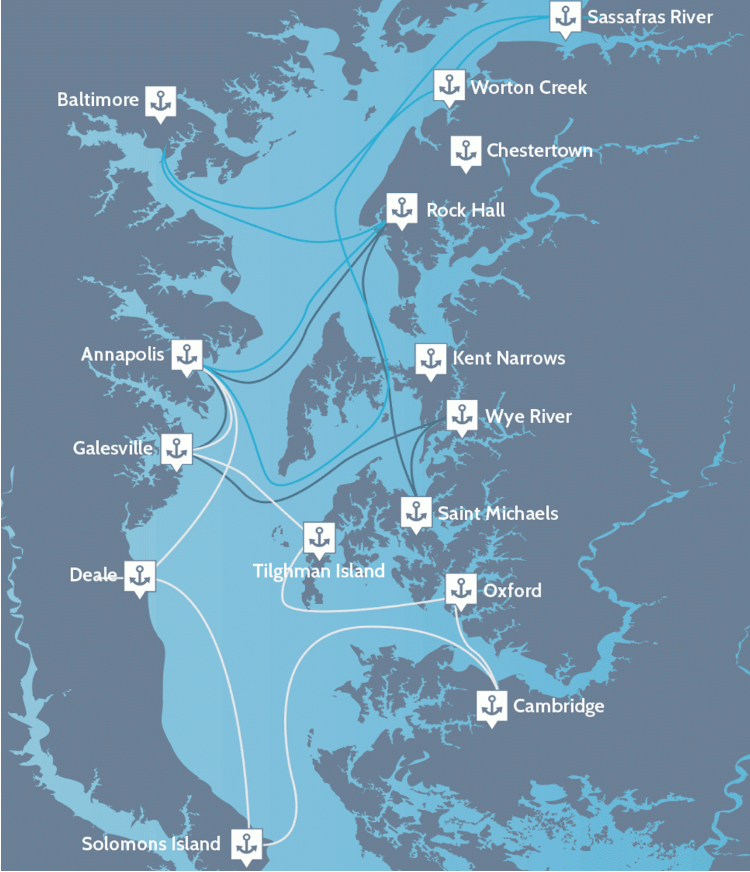 Charter Location Information & Day Sail Options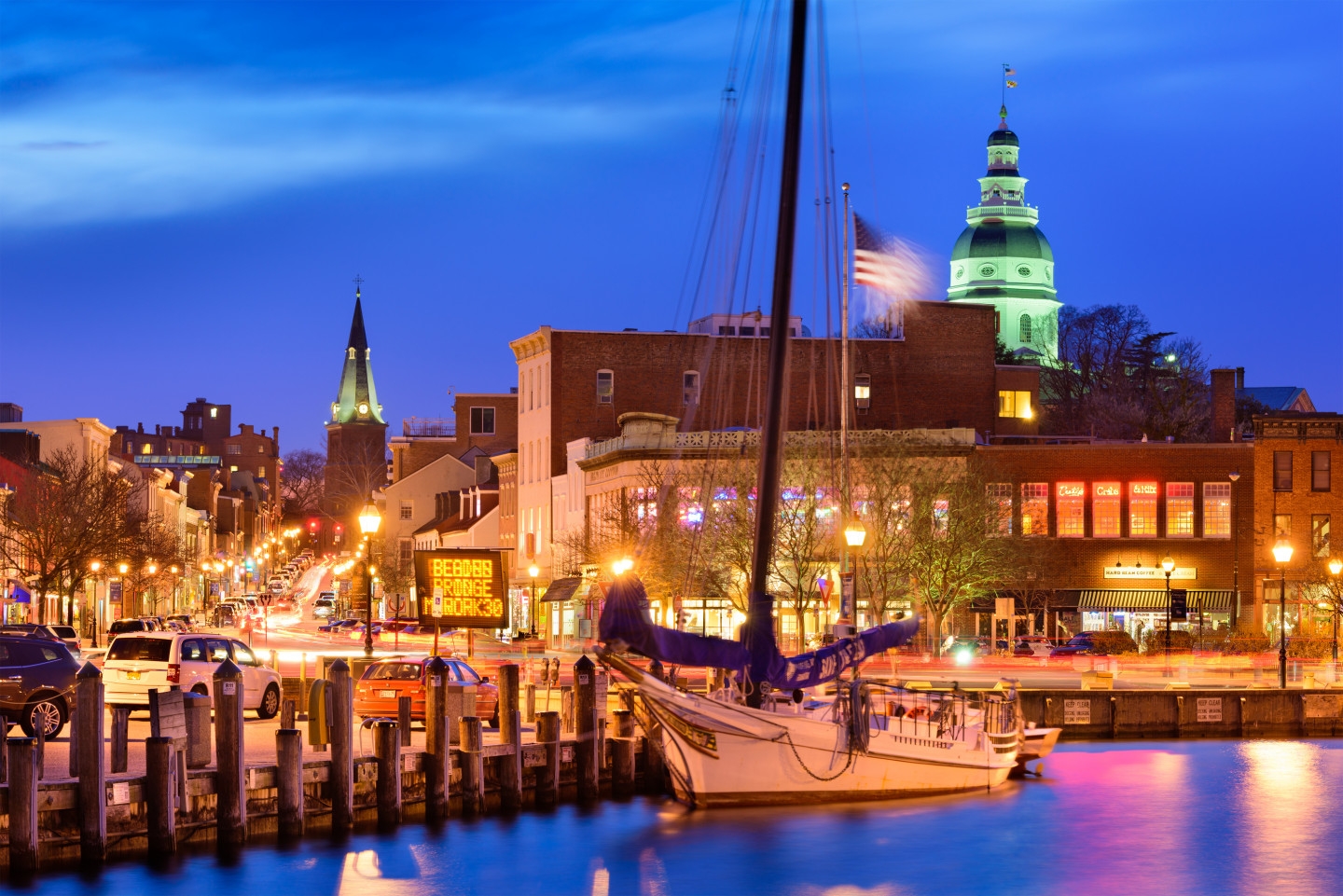 ANNAPOLIS
Annapolis is the charming coastal capital of the US state of Maryland. Situated on the Chesapeake Bay it has a rich maritime history that still shines through today; the US naval Academy is based here, alongside a passionate sailing community. The preserved colonial buildings and lantern-lined streets transport you back to the Victorian era, yet the boutique shopping and modern art on display will bring you right back to the 21st Century. Transient moorings are available on both sides of the Spa Creek bridge on a first-come, first-served basis. Anchorages are located on the Severn River, Weems Creek, Spa Creek, and Back Creek - ref:
https://www.annapolis.gov/
170/Anchorages. Water taxi service is available throughout the Annapolis area. VHF 68 or 410.263.0033. The dinghy dock is located at the end of Ego Alley in downtown Annapolis.
HARNESS CREEK
If you're looking to get comfortable with your charter while still close to Pier 7 - or looking to be near-by at the end of your charter, we recommend Harness Creek, on the north side of the South River. This creek is part of Quiet Waters Park. Harness Creek is protected enough to be known as a hurricane hole for area boaters. On any given summer weekend, you'll find a mixed assortment of boaters of all types - sail, power, kayakers, paddle-boarders, canoes, jet-skies, and more. It's party-central at the mouth of the creek and there's a quiet area a little further west on the creek. Other South River creeks to explore: Aberdeen Creek (deep, less protected, but good anchor holding), Glebe Creek (tucked away, fairly protected), and Church Creek (protected, tree lined, good paddling).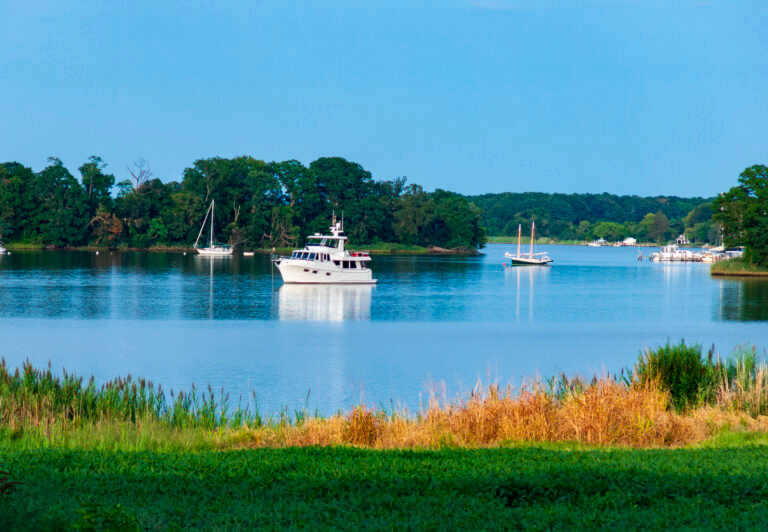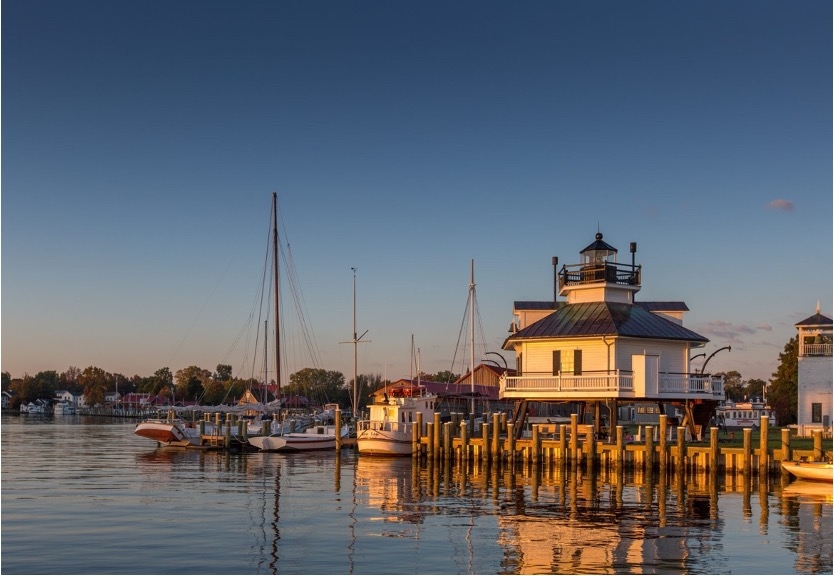 ST. MICHAELS
St. Michaels is a 'must' stop on the Chesapeake. A charming colonial seaport town that is a favorite among sailors and their families, St. Michaels has great restaurants, including the excellent Inn at Perry Cabin (reservations and sharp casual clothes required). You can visit the Maritime Museum and get to know the history of the Bay, or just spend the day browsing the quaint shops throughout town. If you make arrangements in advance with one of the many marina's or the Chesapeake Bay Maritime Museum in advance, your slip will be ready and waiting for you. Or, you can drop anchor in the Miles River or St. Michaels harbor and catch the Harbor Shuttle water taxi into town, call VHF Channel 71. Ref:
https://www.stmichaelsmd.org/Arriving-by-Boat
GALESVILLE
Galesville is along the western shore of the West River. Getting there takes you by the Thomas Point Lighthouse, the oldest screwpile lighthouse still in operation on the Chesapeake. Galesville is isolated with calm waters and picturesque enough to warrant cooking out. However, if you don't feel like cooking, there are some fun restaurants ashore. Head over to Pirates Cove for good seafood and excellent views, or check out Thursdays, where there are great views of the river from the comfortable covered deck. Dockage is available at the Hartge Yacht Harbor, transient slips are available at Pirates Cove restaurant, and there is plenty of safe anchorages available on the West River. Ref:
https://hartgeyachtharbor.com/slips-moorings/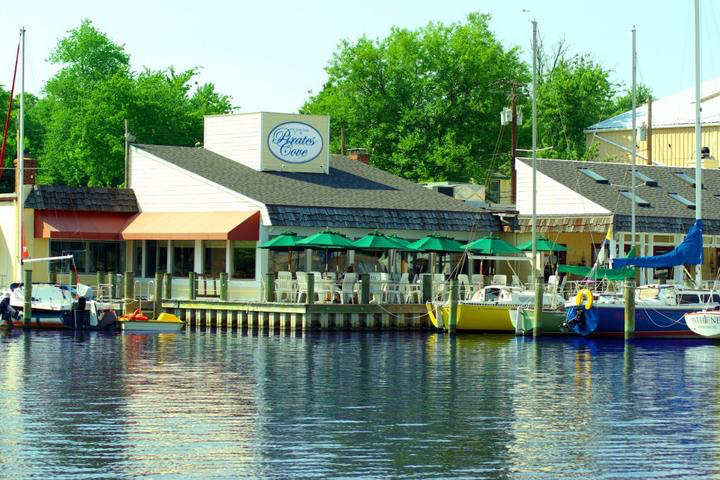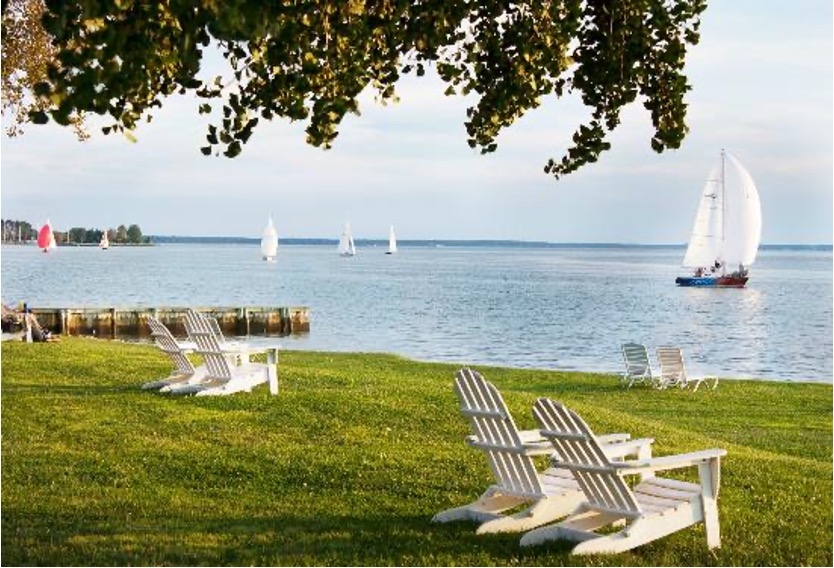 OXFORD
Oxford is a quiet town on the Eastern Shore that was the first port of entry into the colonial states. It sits on the mighty Choptank River and is known for its boatbuilding, quaint shops, waterfront parks, fine restaurants, and many full-service marinas with swimming pools. Mears Yacht Haven offers just about the best location in town. The broad water views and secure protected slips provide deep water accommodations. Off Oxford there is an open anchorage in the Tred Avon between the #2 buoy and the entrance to Town Creek. This is acceptable for a late night arrival, but I would not want to stay here during the day. The constant power boat traffic on the river makes this unbearable.
Anchorages are readily available on the river, but Town Creek itself is tight and busy, has less than perfect holding. You can also head for the anchorage in Dun Cove off Harris Creek, which is one of the best by far. En route you are likely to see the Oxford-Bellevue ferry and dozens of tiny sailboats from the Tred Avon Junior Sailing Camp. Otherwise try Goldsborough Creek or Plaindealing Creek to get away from the crowds in unspoiled settings. Plaindealing Creek with 10' of depth is immediately across the river from Oxford, and due north of the Town Creek entrance. Further up the river is Trippe Creek which offers a large, but well protected anchorage.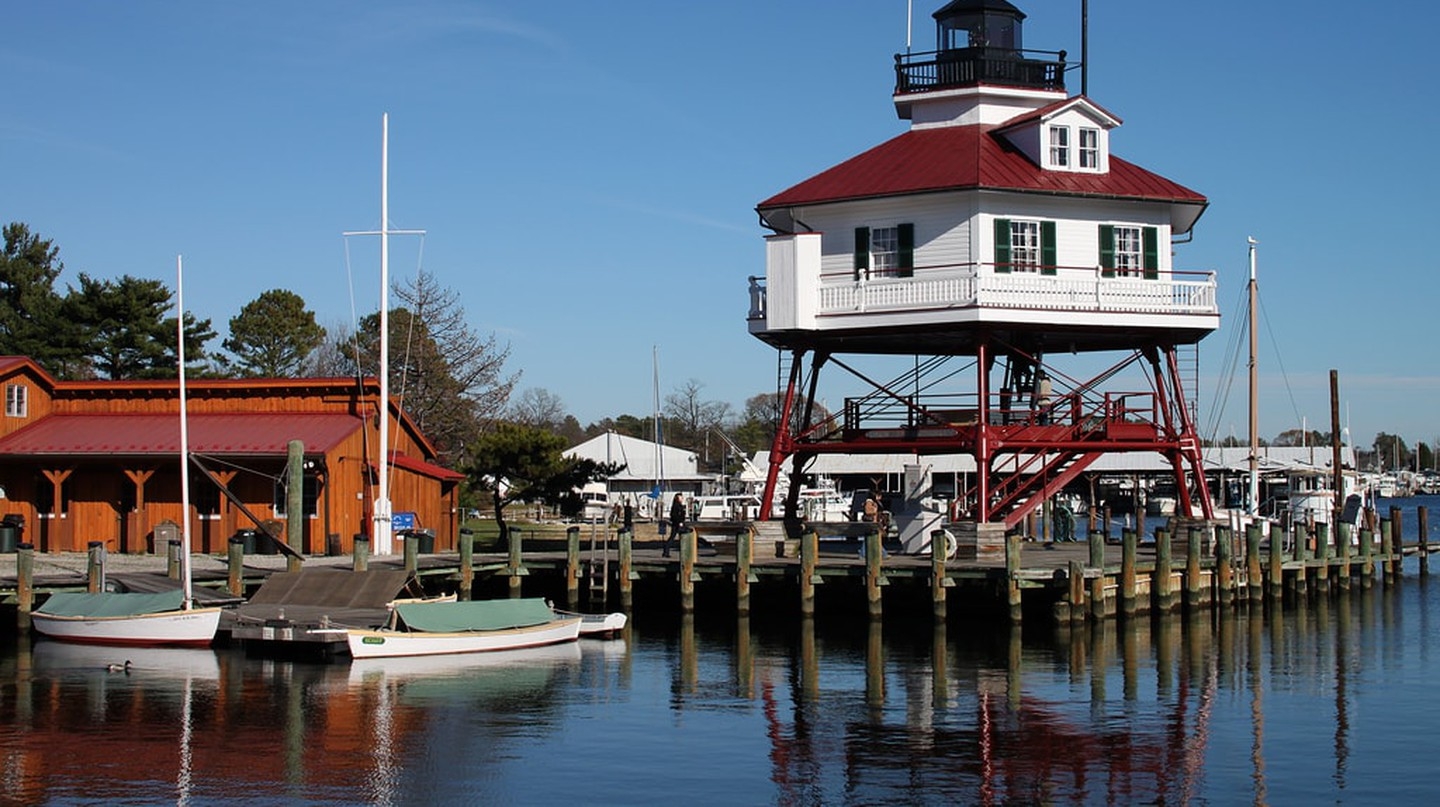 SOLOMONS ISLAND
Solomons Island is a cozy, working fishing village at the intersection of Chesapeake Bay and the Patuxent River. With lots to do, Solomons has quickly become a favorite of all our charters. There are plenty of great restaurants and shops as well as fossil hunting at Calvert Cliffs, the Calvert County Marine Museum and the Drum Point Screwpile Lighthouse. It is best to sail to Solomons in two days. A great itinerary is stopping at Harrington Harbor on the way down and St. Michael's on the way back. Visit Solomons Island, MD. There are plenty of safe anchorages available in the Solomons Island basin. Ref:
https://www.waterwayguide.com/anchorage/2-142/solomons-islandbasin
ROCK HALL
A fisherman's town where the food is as fresh as the day's catch. There is abundant wildlife, it hosts many festivals, and is a haven for boaters and artisans. Visit Rock Hall, MD down and St. Michael's on the way back. Swan Creek is one of the most beautiful and protected anchorages on the Bay and is located on the North side of the town of Rock Hall. It is minutes from restaurants, shops and marinas and has been consistently awarded Best Anchorage on the Northern Bay by Chesapeake Bay Magazine. South of Rock Hall, along the Chester River, are several popular anchorages such as Grays Inn Creek, Cacaway Island, a wide anchorage on Lankford Creek, the beautiful Corsica River, and the quiet Davis Creek which is located near a marina. Heading North out of Rock Hall, Tolchester Beach, Fairlee Creek, Still Pond, and Worton Creek are all convenient and lovely anchorages. Still Pond, while a shallow anchorage has been voted "Best of the Bay" by Chesapeake Bay Magazine. In Worton Creek you'll find 3 marinas and a restaurant.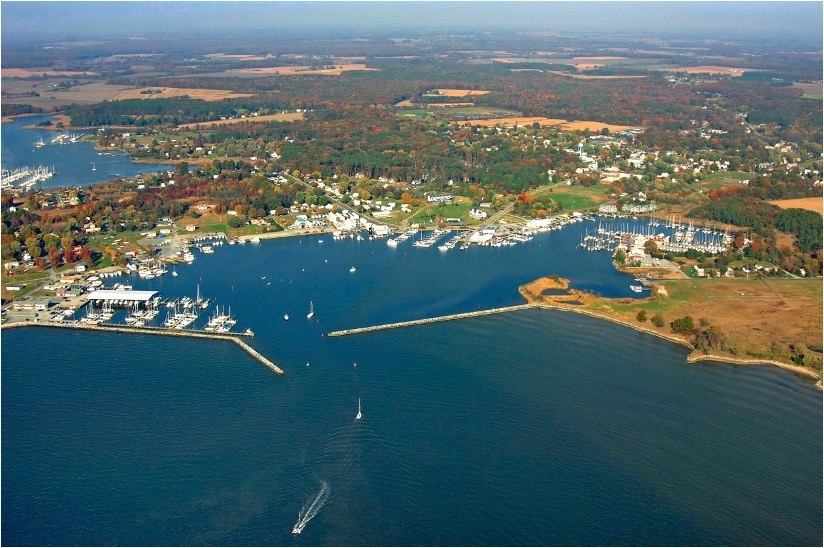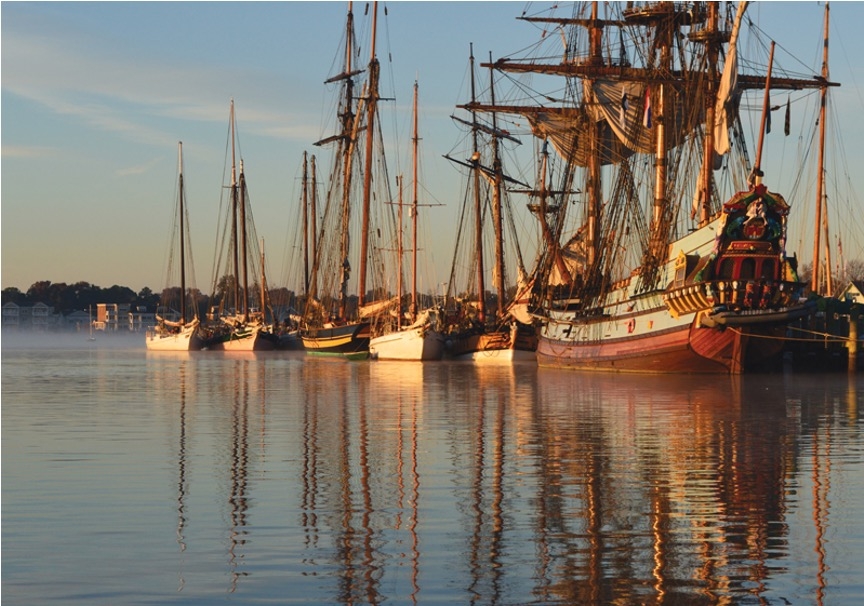 CHESTERTOWN
Located in the the upper eastern shore on the banks of the Chester River. This charming colonial village is surrounded by the bountiful fisheries of America's greatest estuary. It is the home of the HMS Sultana, a replica of a British Royal Navy Schooner that patrolled the American coast from 1768-1772, preventing smuggling and collecting duties. Regarding anchorages, Reed Creek is a wonderful anchorage on a mostly uninhabited creek directly off the Chester River. Both Langford Creek and Reed Creek lay off of the Chester River. If you're looking for a beautiful town to explore from water, motor or sail up to Chestertown for the day and anchor in one of these two great anchorages for the night.
WYE RIVER
The Wye River is 16-mile tributary of the Bay. It is popular because of the many secluded anchorages, nice fishing and natural beauty. There are unspoiled gunkholes along the river that make crabbing there a treat. Visit Wye River, MD and Crab House. Best of all, there are countless, secluded anchorages. Start with Drum Point, which provides both calm shelter and a breeze. Pull dinghies onto the beach at the point to go on shore. Wine berries in July and the rope swing on the beach remain perennial favorites for us. A walk along the shoreline may reveal one of the many hidden piles of large oyster shells eaten by others frequenting Wye Island long ago.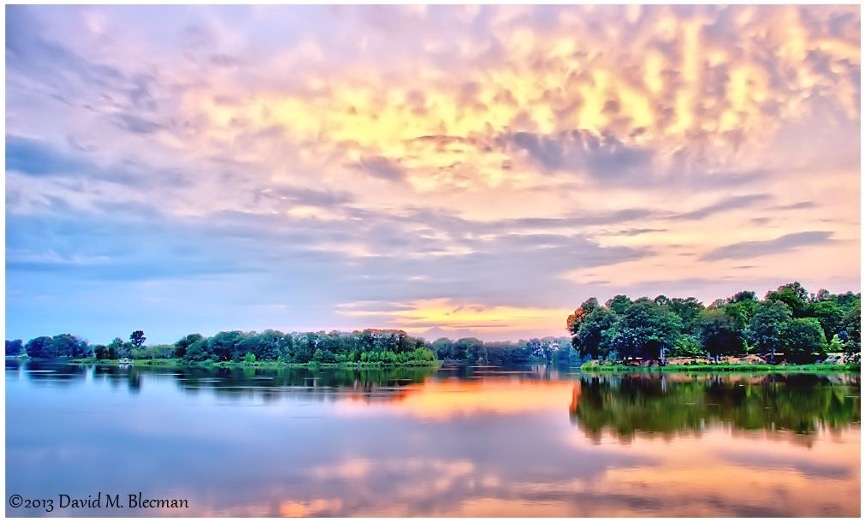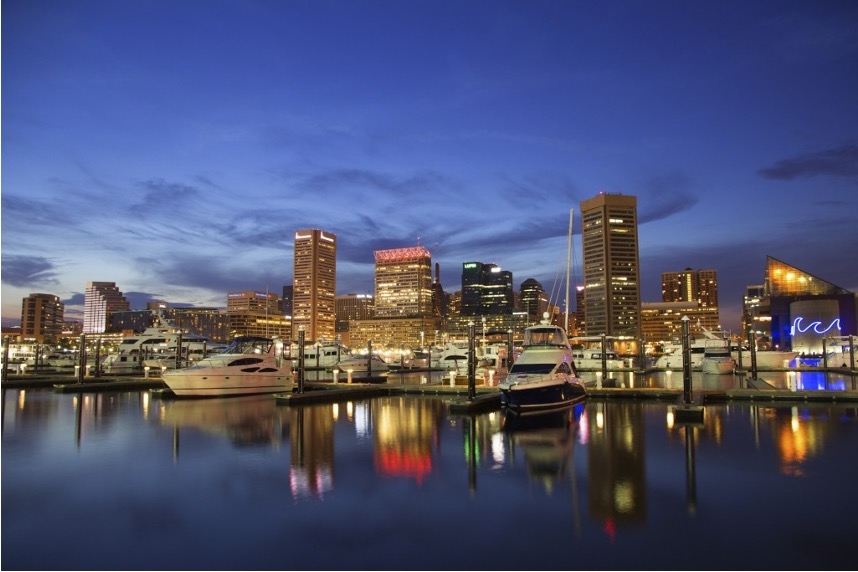 BALTIMORE
Baltimore is a busy port with restaurants, shops, and attractions. From Harbor East Marina, you can take a water taxi to all the sites. Catch a baseball game at Orioles Park at Camden Yards, or go to the famed National Aquarium to see some of the 16,500 specimens. The 12-mile trip from the open bay is relatively easy and filled with interesting things to look at along the way. On the way up, you should stay alert for barges and ocean-going shipping, though by staying just outside the channel, you can get close to these behemoths without any concern. Along the way, a substantial industrial complex opens up on both sides of the river, providing great entertainment as cranes and trucks unload cargo, looking like Tonka trucks from out in the middle of the Patapsco. Passing by Fort Carroll – with its many cormorants, pelicans, and ruins – and then under the huge span of the Francis Scott Key Bridge is neat. Nearing the downtown, you then slide right by Fort McHenry, getting a similar view as Key did when he wrote the Star Spangled Banner. The Northwest Harbor between Fells Point and Canton, in a well-protected spot surrounded by marinas and condos. The anchorage here is at least twice the size of the Inner Harbor anchorage in 18-22 feet of water.
SASSAFRAS RIVER
The picturesque Sassafras River, situated on the northern eastern shore, is a Chesapeake treasure. About eight nautical miles upriver on the Sassafras is the pot of gold at the end of the rainbow at Georgetown, a great destination to lie back and unwind in a quiet, unhurried location.
Navigation is easy. If anchoring out is your thing, there are several great small creeks where you can drop the hook for the night. On the south side of the Sassafras, Lloyd Creek comes up first from the west, but only has one- to two-foot depths—not suitable for anchoring. Next heading east is Turner Creek, which has a somewhat tricky entrance, but has a nice nine- to 11-foot sliver where you can drop anchor.
Freeman, Island, and Woodland Creeks (which share a common entrance) have some areas in fourto five-foot depths where you can anchor, but they are open to the north and also exposed to wakes from passing river traffic. You can also anchor away from the designated mooring areas in Georgetown-proper in 16- to 20-foot depths or head up under the bascule bridge (five-foot vertical closed clearance) to some other great anchoring spots. Georgetown lies on the southern shore and Fredericktown on the northern, but most boaters consider it all part of Georgetown.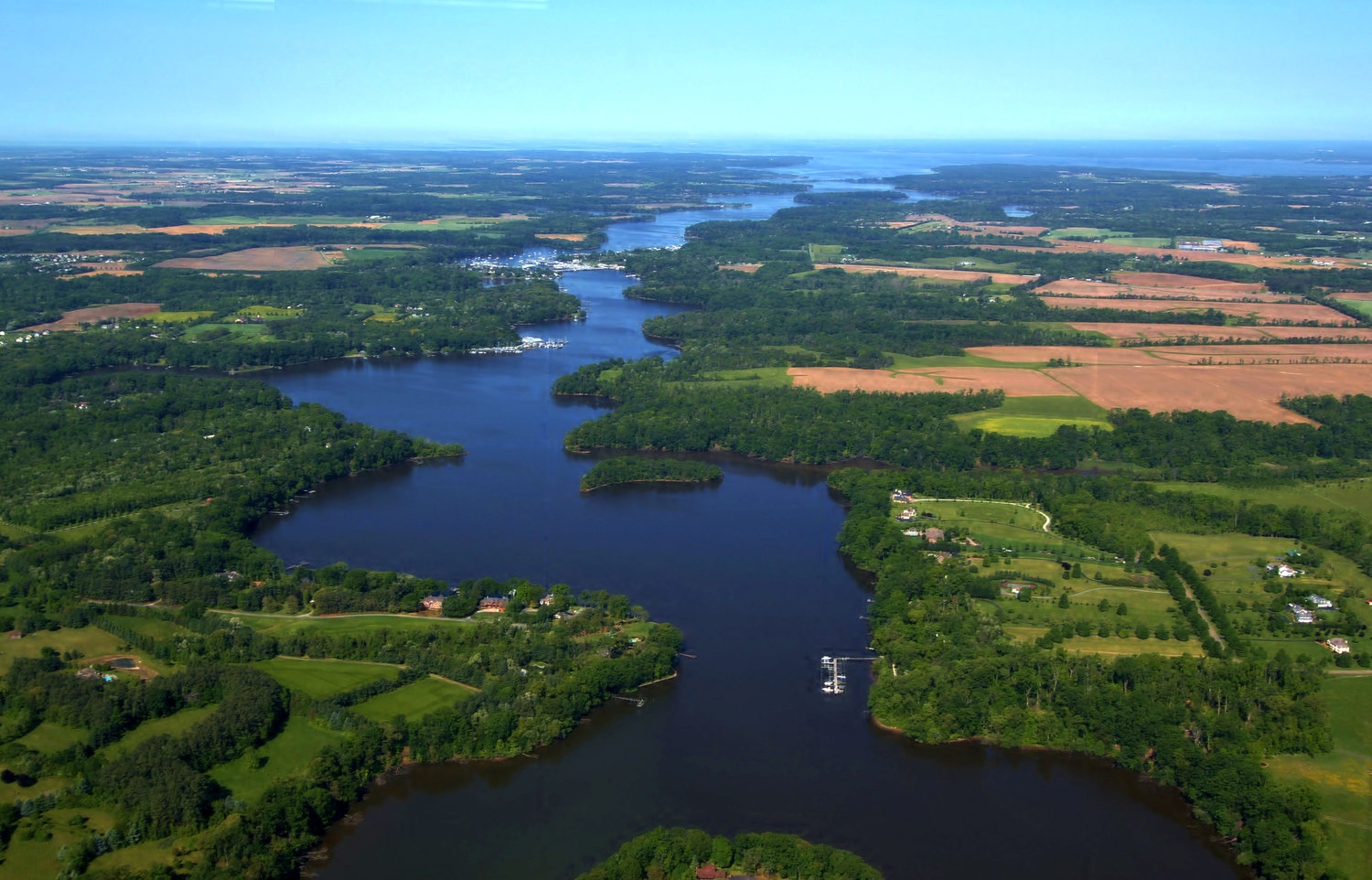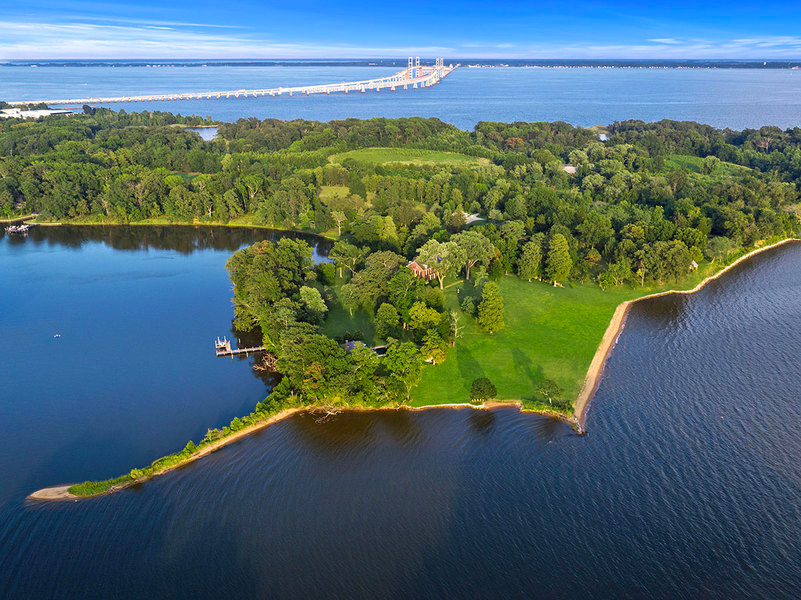 WHITEHALL BAY
As a respite from the hum and buzz of downtown Annapolis, Whitehall Bay beckons from a mere three miles away. Large, reasonably deep, and protected from winds from the west, north, and east, Whitehall Bay marks the confluence of Mill, Whitehall, and Meredith Creeks and lies southwest of the Bay Bridge. Half an hour, more or less from Annapolis, Whitehall Bay opens up a world far removed from the crowds. The anchorage embraces many boats, leaving ample space for solitude, friendly rendezvous, or raft-ups.
At the confluence of Whitehall and Meredith Creeks sits the 250-year-old estate of Whitehall. Originally built by Provincial Governor Horatio Sharpe, who returned to England in 1773, the house and estate were restored to their colonial appearance in the late 20th century by Charles Scarlett, Jr. and recently opened to the public on a limited basis. To the southeast wraps a spit of beach ending at Hackett Point. Birds, fish, and boaters with shallow-draft vessels love to explore the shallows in this area. Migrating waterfowl hang out here in abundance in the fall. Osprey frequently dive for fish just off the bow, while cormorants and bald eagles grace the sky. We like to hang out here with friends—a quick trip away from the dock when all of us get too caught up in land life to get any farther away.
TILGHMAN ISLAND
Tilghman Island is located on the eastern shore of the Chesapeake Bay at the periphery of Maryland's Bay Hundred Peninsula. The island is wedged between Eastern Bay, the Choptank River, and Harris Creek. Tilghman Island is a spectacular destination in its own right and this island is not to be missed. The quiet community on Tilghman Island was originally settled in 1656. It is known for oysters, crabs, and the watermen who harvest them. At one time during the peak of the Tilghman Packing Company, the island boasted four villages, a boatbuilding industry, and many residential communities. Today, the island is a mixture of undisturbed countryside, small agriculture, and private homes. Tourists come to Tilghman for a taste of traditional Chesapeake culture, heritage, and beauty. The Tilghman Waterman Museum is a must-visit to learn more about the island and the people who settled it.
Tilghman is located just southeast of Poplar Island and is connected to the mainland by the Knapps Narrows Bascule Bridge. Along Knapps Narrows you will find several welcoming marinas, inns, and restaurants with dockage. The eastern shore of the island is welcoming to Chesapeake boaters, though open to winds from the east. With prevailing westerly winds or in settled weather, shelter and a comfortable roadstead anchorage can be found tucked in near Dogwood Harbor. Here you will find several restaurants and welcoming marinas. Tuck in as close to shore as your draft will allow, where you will find good protection from the southwest through the northwest.