Explanation of Full Management Central Agency
Our team of experts are on standby to assist new yacht Owners in learning the ropes on how to operate a successful luxury crewed catamaran in charter. The benefits that we offer you below are optional. Some owners and crew may not require these services (owned a crewed catamaran prior, experienced crew, etc.). We will however share our 25 + years of exceptional catamaran knowledge and experience to ensure the success of your investment in high end crewed yacht charter
---
SERVICES OFFERED WHEN ON "FULL MANAGEMENT"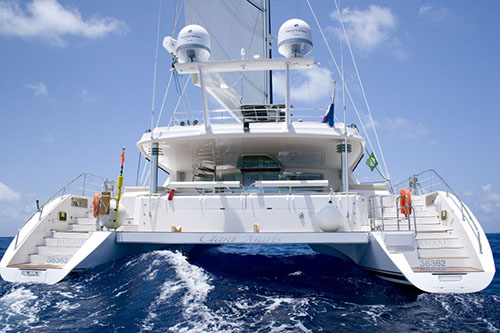 Selection and employment of qualified Crew, and drawing up of Contract of Employment. Crew finder's fee is included in "FULL MANAGEMENT FEE." Unless requested by the owner, no crew will be employed without the Owner's approval.
Managing and organizing Crew Remuneration and any related taxes and local charges
Managing and organizing Crew Work Permits (BVI)Managing and organizing necessary Charter License, Cruising licenses, (BVI)
Supervision and training of Crew to ensure that all duties are carried out as required (yacht maintenance and accounts reporting, charter service, yacht marketing)
---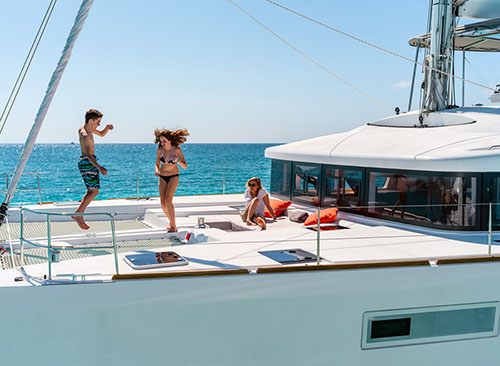 Implementation and supervision of preventative maintenance programs to ensure that the yacht and its equipment are in proper working conditions at all times.
Assistance in the case of breakdowns, equipment failures, sail damage, etc.
Provide extensive stock of specialized catamaran parts
Locate and order necessary parts directly from the suppliers and organize shipping to yacht location
Organize annual haul-out and antifouling, together with any work required whilst yacht is ashore.
Coordinating charter and maintenance schedules
---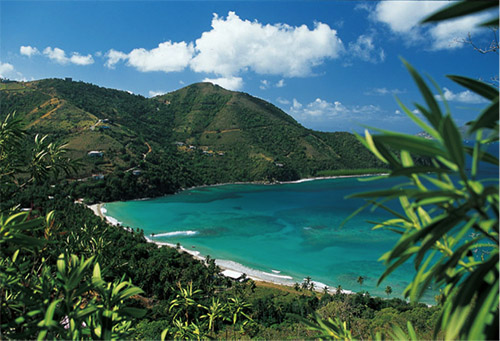 Assisting and advising with all aspects of chartering including, but no limited to, planning itineraries provisioning, transportation of guests, etc..
Ensuring that adequate funds are available both on and off charter to insure continued efficient operation of the yacht. The owner receives monthly invoices with:

Monthly fixed costs (dockage, water, electricity, management fee)
Crew related costs (salaries, taxes, bonuses.)
Charter-related costs (per charter costs)
Maintenance and misc. costs

Monitoring the yacht's income and expenditure and communicating those to the owner on a monthly basis (monthly statement)
Coordinating and communicating with Yacht owner on all aspect of the operation of his/her yacht.
Total cost per month is $30 per foot. Full Management is optional and not required. The rate of $30 per foot does not include central agency fees. Please view explanation of central agency below. Please note that while Full management is optional, joining our reputable central agency is considered necessary to ensure management of calendar and charter bookings from industry Brokers.
---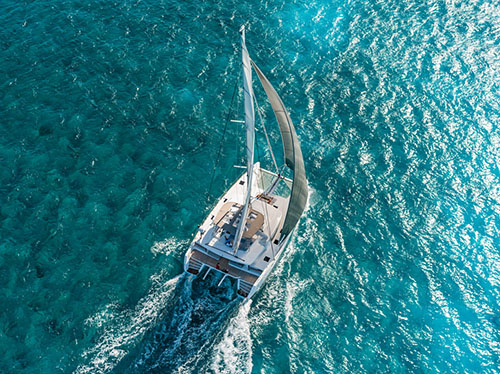 Full Management is processed at our home base in Hodges Creek Marina in Tortola, British Virgin Islands.
Please take into consideration that we only offer the FULL MANAGEMENT service if your home base is Tortola, BVI. However, we will market your luxury yacht to high end guests in other destinations in the Caribbean like St Martin, St Barts, Nevis, St Kitts and further south through our Central Agency services mentioned below Qualified Crew are experienced enough to do short crossings to and from Tortola, BVI, therefore it is very feasible to offer your yacht in alternative locations in Caribbean subject to Owner and Crew approval.
We can also assist in legalities and bookings for charters in the Med during the summer months.
It is advised that you do contact our team of luxury catamaran sales consultant with any questions to guide you through the process. We are standing by for your requests.
---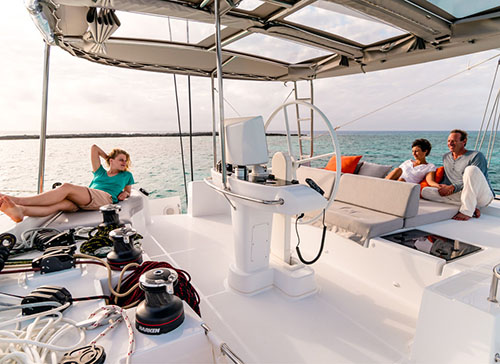 "Central Agency" (Calendar & Booking Management)
Every yacht entered into a charter fleet must have a master charter calendar maintained and up-to-date. Each management program is customized to fit the needs of each individual yacht owner.
This program is designed to allow the catamaran owner to be involved in all aspects of the chartering of their yacht. There are a lot of details that go into record keeping, booking and calendar management and we have the experience and necessary tools to ease the process.
Having a group manage the calendar allows the crew to focus on the clients and maintenance.
We can answer all inquiries (email, telephone, etc.) regarding all aspects of chartering your catamaran. We manage all potential Broker inquiries regarding their guests' questions about availability, rates, and amenities aboard. The charter industry brokers will regularly check with the 'Central Agency" to determine availability, promotions or any other pertinent information prior to sending out any paperwork
---
In addition to calendar management, the booking desk also markets your catamaran in charter through various social media outlets to keep your yacht fresh in the minds of charter agents.
The fee for calendar management is 5% on each charter plus approx. $300 per year to update outside databases that Broker industry use to market your catamaran.
Central Agency services is operated out of the main reservation office in Fort Lauderdale, FL.
To view our Charter Contract agreement please fill in our quick form. Our crewed yacht specialists will contact you and send you the agreement and other necessary details.