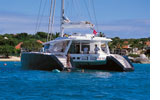 In 2000 we created Sunreef Travel, specializing in chartering luxurious boats. The company offers their clients the most beautiful places in the world with the main destinations: Madagascar, Mayotte, Zanzibar, Seychelles, Comoros, Caribbean, Mauritius and Maldives. Sunreef Travel has its own catamaran fleet: Marquises 56´, Bahia 46´ and Maryland 37´, which guarantees our clients higher service to satisfy their needs.
Two years later we started the travel agency Sunreef Voyages so we could offer a program of traveling and excursions, airline tickets, hotels and villas. This offer "a la carte" enables us to be more efficient in satisfying your needs and enhance your travel experience.
This experience in organizing charters, plus a good knowledge of the boat market and the needs of clients who are interested in cruising on catamarans was the main reason for creating our line of luxurious catamarans. Eighteen months later, the prototype catamaran Sunreef I left our shipyard.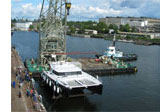 With this boat Sunreef Yachts introduced onto the marine market a new brand of luxurious catamarans ranging from 50' to more than 150'. Thinking of the smallest details, considering comfort, elegance and safety, our unique vessels are completed as custom boats and are made for clients who are looking for luxury, comfort and incomparable space.