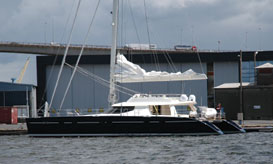 A huge amount of activity is being reported from the major Super Catamaran builders including Sunreef, Alliaura, Lagoon and Yapluka. Recent Launches and upcoming constructions confirm the rising popularity of 60 feet plus semi-custom and custom models in the international marketplace.
Release Date: July 15, 2005
SUNREEF SUPER CATAMARANS

First out the block was Sunreef with spokesperson, Marta Biesiada, confirming a successful launch of the first Sunreef 60 in Gdansk, Poland and news that they recently sold their ground breaking 74 footer seen at boat shows around the United States and Europe this year.
Sunreef 60 Interior
This premier multihull has an owner layout with four comfortable cabins containing ensuite bathrooms and separate showers. The spacious saloon is superbly finished with ecru and warm mahogany tones, Coupled with the well-equipped galley, the interior of the Sunreef 60 offers both harmony and elegance.
Sunreef 60 Exterior
A sophisticated flybridge mingles with traditional features to offer huge amounts of space around the helm station and allow comfortable dining and relaxation via the teak dining table and sunbathing mattresses. From the main helm station, winches control all sail trimming and handling easily and effectively.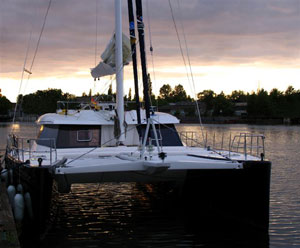 Aluminum and Fiberglass options
The semi-custom Sunreef 60 is available in both aluminum and fiberglass. According to Sunreef they have taken orders for 6 of theses boats. See Michael Harris's recent article on this subject. Please contact us for information on possible showings of one of these yachts at an upcoming show.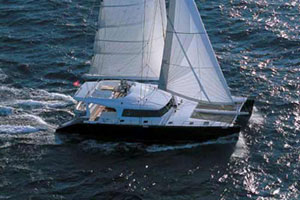 ALLIAURA GROUP SUPER CATAMARANS(PRIVILEGE RANGE)
Can Alliaura recapture their former glory as the international leader in custom luxury catamaran builds? While its true internal changes and a sluggish period allowed some other manufacturers through the door this impeccable builder is starting to reshape itself with announcement of the upcoming construction of the Privilege.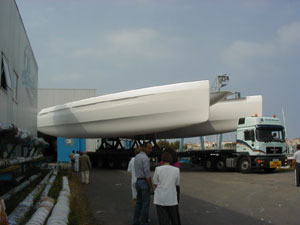 PRIVILAGE 745
The Privilege 745 is set to become the first of a new generation of semi custom mega catamarans.
Early Indicators show that Alliaura is shifting away from smaller multihulls towards high quality, state of the art catamarans ranging from high 50-80 ft plus semi custom models.
Additionally, there are unconfirmed reports on the imminent release of a new 60 ft range catamaran, which may be launched in less then a year.
Sources indicate that it will it will follow the design characteristics and aesthetics of the 745.
LOYAL OWNER SNAPS UP PRIVILAGE 745 HULL #2
Congratulations to the yard on taking deposit on 745 hulls #2. Which came, interestingly from an owner who had stayed loyal to Privilege catamarans for many years. Owning a 42' then a 465, then a 585 and now signing for a 745.
745 HULL #1 IS STILL AVAILABLE
Hull # 1 is still available for sale. Alliaura is planning to introduce this super catamaran at the London boat show. This mega catamaran may be at The Miami Boat Show, Catamarans.com's backyard – please inquire for more information.
YAPLUKA SUPER CATAMARANS
The sea trials for Bella Donna are well under way. "We reached over 10 knots of boat speed in 14 knots of apparent wind," said skipper John Smit recently to Zsolt Estergomy, Mega Catamaran Director and Catamaran Group President, Hugh Murray. John promised a detailed performance and acceptance report of this semi custom mega catamaran over the few weeks. Bella Donna will be heading to the Mediterranean for some owner time and to possibly represent Yapluka at the Miami Boat show in February 2006.
We previewed Yapluka and Bella Donna recently on our site.
See: http://www.catamarans.com/news/sales/megacatamarans/index.asp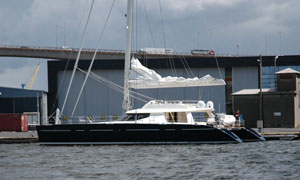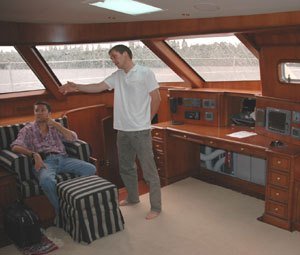 YAPLUKA 70 'Wonderful'
The Yapluka 70, Wonderful, will be at the Annapolis Boat show with special boarding arrangements as part of the Cruising World Magazine Exhibitor Team. Also see her at the Fort Lauderdale Boat show where she will be available for viewing by appointment. Please let your broker know if you are planning to take advantage of this opportunity.
YAPLUKA 70 HULL #3
This model is available for delivery in spring, 2006 and has recently had the deck joined with the hulls. The Flybridge is almost ready to go up!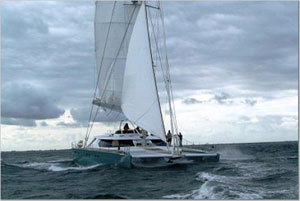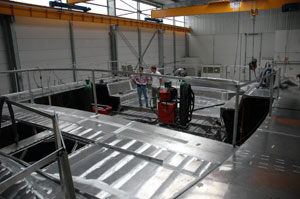 LAGOON CUSTOM CATAMARANS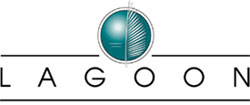 Any customization on these boats will be done aftermarket with the coordination of Catamaran Company's after sales department. Consult us with regards any 'special' customization which we may have to push to CNB directly.
LAGOON CONSTRUCTIONS NEAR COMPLETION
The customized Lagoon 570 hull #31 is nearing completion while Lagoon 67' hull #5 was just ordered signaling perhaps one of their final custom designs. They are enjoying such a success with streamlined production lines that look set to be incorporated in the sophisticated Lagoon 500 range.