| | |
| --- | --- |
| | |
The environmental movement has never been short on noble goals: cleaning up the oceans, preserving wild spaces, saving endangered species, neutralizing acid rain – all commendable. But today, one stalwart ecological problem overpowers the rest: global warming. Restoring ecosystems, protecting the Headwaters redwoods, or saving the Siberian Tiger won't matter if climate change plunges the planet into chaos. If you're serious about global warming, only one thing matters: Cutting Carbon.

The Lagoon 420 is a ground breaking and innovative leap in that direction. In fact, in early Feburary of this year, the Lagoon 420 scooped up the Mansura Perpetual Challenge Trophy, a prize presented by the Duke of Edinburgh for leading the industry in green boating design. By introducing the largest fleet of this model to the Caribbean charter scene, The Catamaran Company makes a bold statement about its perspective on combating greenhouse gases and preserving the cruising grounds for the enjoyment of generations to come.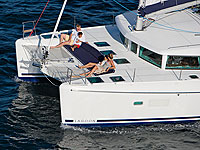 420 Fleet Availability (BVI)

2007 Lagoon 420 – 3C/3H –

DIGNITY


2008 Lagoon 420 – 3C/3H –

BLUE WATER BOUND


2007 Lagoon 420 – 4C/4H –

KNOT ON CALL


2008 Lagoon 420 – 4C/4H/1 SINGLE –

SHREK





420 Fleet Availability (Chatham Bay, Union Island – Grenadines)

2009 Lagoon 420 – 4C/4H/1 SINGLE –

ARISTOTELE




A generator in a compartment at bridgedeck level meets all of the electrical needs – both propulsion and DC house service. No diesels are under the aft beds. When motoring, the sensation of silent power is striking and acceleration is instant. Under one 8-kilowatt motor, the Lagoon 420 quickly reached 6 knots, and the only sound came from the swirl of the prop.

The massively powerful propellers, which are 17 inches in diameter, convert the 8-kilowatt motors' output into thrust and also spin to generate electricity for charging their batteries when sailing at 7 knots or better; however this does reduce speed in light air. An optional reaching sail can be set on a short sprit when off the wind to boost speed and power regeneration.

In other respects, the 420 is classic Lagoon, with its gullwing bridgedeck and deckhouse with vertical windows enclosing a comfortable, well-lit lounge/dining area and galley. The starboard hull has two cabins, each with a queen-size berth and head and separate shower. The port hull is offered as a mirror of the starboard layout or as an owner's suite with berth, settee, desk and a large forward head.

In the cockpit, all sail controls – halyards, sheets and reefing lines- lead to an elevated helm (on its own platform) at the starboard side of the deckhouse bulkhead. To port, U-shaped bench seating surrounds a table. The entire area lies under the shelter of a rigid roof, supported by four stainless-steel columns.


LOA: 41' 4"
LWL: 40' 4"
Beam: 24' 7"
Draft: 4' 2"
Sail Area: 809 sq. ft.
Displacement: 25,842 lb.
Water: 92 gal.
Fuel: 79 gal.
Engine: 8-kW. generator, electric drives
Designer: Van Peteghem/Prévost

For more information on the Lagoon 420 Hybrid, visit our informative hybrid news section which contains a flash tutorial behind the climate science of the 420 Hybrid Diesel-electric system.