| | |
| --- | --- |
| | |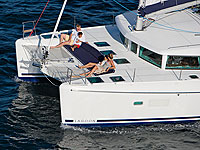 Todays economy is affecting everyone. The catamaran market has never been so active, as we are seeing boaters from every facet of the boating industry coming to the Catamaran market, besides all of the obvious reasons, because of fuel prices. What I have found is that people love boating but the fuel cost associated with this are bringing buyers from all sectors of the industry. They love boating and that is not going to change. What is going to change is the way people do their boating.

The days of spending thousands of dollars just to fill the fuel tank for a short run to and from somewhere is over. Catamarans are very fuel efficient and the sailing Catamarans are some of the most fuel efficient boats ever produced. For those of you really thinking about fuel economy, look at all of the new electric boats on the market. Take the Lagoon 420 for instance.. over 150 of these catamarans have been sold worldwide since it's introduction in 2007.

There has never been a better time than now to go sailing away with the family. Let the prices of oil and groceries settle, while you are out providing your own meals of fresh fish, rice, and beans.

Imagine your self on your own boat at a anchorage with your hook down and paying no bills while you are sailing from one island to the next picking fresh fruit for breakfast and diving for your dinner. To fill your spare moments you are making those changes to your boat that will customize it to fit you and your family's needs. Could there be a better feeling in the world? Imagine listening to your favorite music in the cockpit as the sun goes down and enjoying a perfect dinner of fresh seafood, you have provided for yourself, and a nice bottle of wine or that fresh crisp bottle of beer! Now is the time to take advantage of the high prices of fuel by not spending any of your hard earned money on it. Go sailing and see the benefits that only a fresh breeze and full sails can provide. Find out what all the noise, or lack thereof, is about.