Leg three started with another 4:00 am start. Sharon had arranged for a 4:30 pickup to take us to the koh Samui airport for our 6:00 am flight to Bangkok where we connected with our 11:30 flight out to Singapore. We had a good flight in to Singapore. Thai air really is a great airline. The staff are so friendly and the food is the best. We arrived in Singapore at 2:30 and breezed through immigration and customs to find our bag and the bike already waiting for us. I was amazed at how lush, green and clean Singapore is as we rode in from the airport to China town and Alexis's house. Alexis how did we manage not to have a photo with you! We do have some of your amazing home.
| | |
| --- | --- |
| | |
| Entry to Alexi's House | Row of Shop houses looking up from Alexi's front step |
Once we dropped our bags off we headed into town to register for the race and do the last minute race purchases. Once that was done we tried to find a pay phone to call Alexis and arrange a meeting place. In this day and age a pay phone is a hard thing to find. After touring two malls we finally found a phone in the same place we had started! Luckily Alexis had a chip so we could use Steve's phone in Singapore. No one tells you that waving down a cab in Singapore doesn't really work if you are downtown. You have to call and have them come pick you up. So even though you are standing in a line that says taxi queue that doesn't really mean you are going to get one anytime soon.
Steve woke up Friday with a rather sore back. I think this came from lifting our one bag which is beast. I went for a morning run and then we headed into town for an interview with the race publicity department. I can't say I am TV material, not that I saw the interview but I don't think it's my calling. They had me come in as part of the athletes from far and away. By the time this was done Steve's back was very sore and we went home. I came out later in the day for the race briefing.
Saturday was time to drop off the bike and running gear out at transition one. I took a taxi out to the park and he waited while I dropped off the bike and running gear. A free taxi out that far was like gold so I am glad I had him wait for me. Because I had the taxi waiting I didn't take the time to check out the swim course and transition area I figured I would have time for that on Sunday morning.
Once I got back to the house we decided to take Steve into one of the hospital to have his back checked and to get some muscle relaxants. If you need to go to the hospital I have to say Singapore is a great place to do it. We walked into the out patient room and while I filled in the paper work Steve was seen to immediately. It was so fast and efficient. No hours waiting in a waiting room like I would have expected.
Saturday night Alexis took us out for pre race dinner at a local restaurant. The food was amazing. We had a great noodle dish and some really yummy spinach like veggies in sauce. Neither of which you could hope to have in Tortola.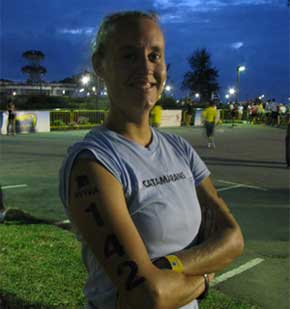 Body marked and ready to go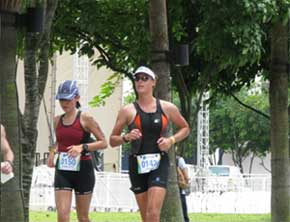 Almost done on the last 2 km!
Sunday morning Alexis had arrange a taxi to take us to the start so we were up and out of the house by 5:30 and at the start for 6:00. After having my lucky 142 put on at body marking I did the last minute adjustments to my bike and gear. It was then time to head down to the start line. This morning the water was very choppy which I don't mind but it was very hard to see the course makers. For a change they let the pro athletes start and then the woman. All the races I have done in the past start with the pros and then all the men from youngest up followed by the woman starting with the youngest. So by the time we start there are a lot of people in the water. Being the first to start meant that it was clear swimming and the first loop on the bike had very few people. This was a good thing as the bike course was four loops with a few sharp corners. It was a challenge not to draft so I took to passing people which made me keep my speed up on the bike. It was a great ride and I really enjoyed it. The only problem with triathlons is that once you swim and bike you have to RUN. I can't say that running further then 400 meters is really my specialty. So after having a good swim and bike all those great runner's started to pass me. They make it look so easy. This is the part I really need to work on.
The weather on race day was very nice. It wasn't as hot as I expected and the rain held off till after I was finished. Once I handed in my timing chip and finally managed to collect all my gear (which seemed to take a while to be transported from the swim bike transition to the finish) we headed for home. I had a hot shower and we headed out for a plate of noodles from one of the local restaurants. Later in the day we went back to check the results which hadn't been posted. They had an issue with the timing and so they didn't even have me down as starting the race! It seems that many people had issues but thankfully they had also done a manual check as the athletes finished.
Singapore was offering 75 slots to go to world championships in Clearwater Florida in November. To get one of these slots you need to be in the top of your age group. The more people in your age group the more slots to Clearwater. My age group had 2 slots and there were 30 woman signed up to race. I was hoping I would be close enough to the top of my age group to get one of these slots. To accept one off these slots you have to go through a long and tedious session called "roll down" This is where they ask the top of each age group if they would like to go and if they don't then the slot rolls down to the next person in the age group. So even though I wasn't first or second in my age group I did manage to get one of the slots to Clearwater. Yeah!
After collecting my slot for Clearwater it was time to head home and pack so we could leave the following day for Chiangmai in the North of Thailand. Sunday was a very long day indeed. Not only did I race but we had to pack our bag and the bike!
It was great to see Alexis, Singapore and race all in one!
Leg three was a great success!
They still do not have the timing sorted but at least they have swim and bike times for me. I did the run in about 2:18 for a rough total of 5:35 which would put me about 7th. Here is the link to the results page. Age group 35-39
http://www.ironman703singapore.com/index.php?page=news-023
Cheers
Sue and Steve



For more additional information, please visit www.catamarans.com