Hello from Foxy's on Jost Van Dyke!
We wanted to send a preliminary reminder to everyone that this years annual Catfight and Halloween Ball will again be the last weekend in October, the 26th and 27th. We look forward to seeing our regular contingent of multihull maniacs, as well as welcoming some new racers to the madness.
For anyone new to the Catfight, it is the first race of the Loyal West End Yacht Club racing season, and is the only exclusively multihull race in the BVI. The race is PHRF rated, and categories are by length overall. It is not a pursuit race, but the starts are staggered by 1 minute each, and the boats start by order of registration number. This helps to decongest the start line and make for a safe and fun, yet very competitive race.
Foxy's Masquerade Ball is popular with sailors and landlubbers alike, and one of our favourite parties of the year. It is worth the trip to Jost just to see what Tessa will come up with for a costume. If you go to our website you will see what partiers came up with in years past.
So, anyone who wants to come and try to pry the title away from Mike and Sydney, or if your charter guests are looking for something fun and different, we will see you in October.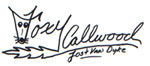 For more additional information, please visit www.catamarans.com