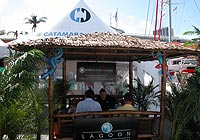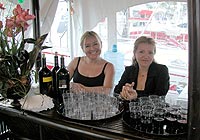 Be it a local or regional boat show, one of our top goals is to leave a positive, lasting impression with attendees who swing by Catamarans.com's exhibiting area. From our dock layout and booth presentation, to our sales and charter staff's performance during the show, we want your experience to be as informative as possible and continuously strive to achieve an enviornment that both intrigues and educates you.

Featured Catamarans

Three days prior to the start of the show, BHMarine will coordinate a delivery of three world-class Lagoons from our docks here in Fort Lauderdale to our site at Strictly Sail (DOCK L1 at Miamarina at Bayside). Amongst the lineup, a Lagoon Power 43, 440 and eco-friendly 420. Also enroute: a Lagoon 380-S2, Lagoon 500, and, for the first-time in the U.S., a Sunreef 62 mega-catamaran!

The Booth

Like a good piece of art, Catamarans.com employs a lot of effort into creating a show booth that is so visually appealing from a distance that we actually draw (pardon the pun) people in for a closer inspection.

We know you have a lot of ground to cover (especially at a show like Miami), so our staff has designed a comfortable display area which allows you plenty of "elbow room" to view our various sales, charter and yacht services at a glance. In essence, making your show experience easy and enjoyable (leaving you time to climb aboard our beautiful catamarans!)

Our Team

Our show staff is there FOR you, not to harrass you. If you're interested in planning that next sailing or power vacation get-a-way, ask to be directed to Joann Higgins of our charter department - she'll be happy to provide you with a rate sheet or to chat about availability and what specials are currently available.

In contrast, if you're a prospective buyer, we'll have ten of our knowledgeable brokers scheduled on board each catamaran to discuss financing options, show specials, new yacht availability or pre-owned catamarans in the area.
Tip: A lot of paper gets passed out at Boat Shows (flyers, brochures, pricing), so if you plan on attending and would prefer not to have to carry that around, contact us today to receive any information you're after.
Our Web Team will also be down at the show documenting it's progression through video interviews, virtual tours and image galleries; all of which will be fed back to Catamarans.com. If you have anything you'd like to share with the yachting community, stop in and say hello; we'd especially love to know your thoughts on the overall show and featured catamarans.