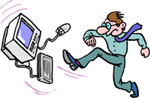 About a year ago we opened a suggestion box to hear your ideas of improvement for Catamarans.com. 12 months and 9.7 million page views later, we would very much like your ideas for 2007!

Catamarans.com strives to continuously improve our site by making valuable catamaran resources available, resolving design issues and improving performance. We would be very grateful if you could spare a moment to head over and jot down one idea with regards to how we could make this site more useful and relevant to your catamaran needs.


We appreciate the feedback and wish you and your family nothing but the best in 2007!