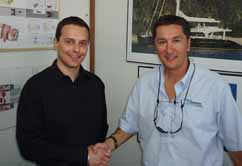 Nicolas Lapp (left) and Hugh Murray (right) sign agreement

Catamarans.com's strategy is to leverage the strength of their extensive sales network and the broad potential of the U.S. mega catamaran market as a whole to quickly increase the advancement of this dealership deal with Sunreef Yachts.

Sunreef Yachts is based in Gdansk, Poland - a city whose dominant industry is shipbuilding and is often referred to as the "crown jewel of the southern Baltic Coast". Sunreef has been heavily involved in the yachting and travel industry since 2000. There was first the creation of Sunreef Travel, a company which specializes in chartering luxurious boats to some of the most beautiful destinations in the world, with their main ports of call being: Madagascar, Seychelles, Zanzibar, Comoros Mayotte, Caribbean, Mauritius and Maldives. Two years later, they opened a travel agency called Sunreef Voyages in order to better market a program of traveling and excursions, organizing airline tickets, hotels and villas. This special program allowed a more efficient means of satisfying and enhancing their clients travel experience.


The experience gained from organizing charters, plus their knowledge of the boat market as well as the needs of their clients who were interested in cruising on catamarans is what fueled Sunreef's decision to create their own line of luxurious catamarans.

Sunreef Yachts built their first 73 foot yacht of aluminum in 2003 and featured her at the Miami Boat Show where she met rave reviews. She was considered beyond luxurious and immense in space. Since then, Sunreef Yachts have never looked back. Sunreef Yachts are now ranked among the world's top producers of catamarans from 50 to 150 feet. They design and manufacture luxury yachts for private owners as well as for charter.



THE RISE OF MODERN POLAND IN MEGA CATAMARANS

Gdansk, Poland is undergoing a remarkable transformation as far as industry and economy. One reason, is the emergence of Sunreef luxury yacht construction yards.

The shipyard of Sunreef Yachts utilizes both aluminum, and modern lightweight composite materials. They offer a truly comprehensive range of in-house services from the beginning stages of initial project design to the finer details of interior decoration and selecting equipment. Made for clients looking for luxury, comfort and incomparable space, Sunreef Yachts are a step above the rest. Now featuring a range which includes catamarans in 60, 62, 67, 74, 76, 80, 82, 92, 102 and 122 foot models, Sunreef Yachts creates yachts that reflect the needs and desires of the owner down to the minutest detail. From upholstery to electronics, everything is well thought out by professionals who know what makes a yacht both livable and sailable.

Currently Sunreef is in the early stages of launching a power catamaran fleet. They are in the process of building a 67 foot power catamaran that holds true to the level of luxury that has been established in their sailing cats.

Sunreef Yachts already has three other power cats up their sleeve to unveil. Amongst these power catamarans will be a smaller 60 foot design and two larger cats, the larger being 82 feet.

Catamarans.com will market, sale, and distribute these catamarans to the North American Market. Each of these companies expertise in their areas of the catamaran industry will complement each other through the development of their relationship. Expanding the growth and popularity of the mega catamaran market.