Itinerary:
Upon arrival at the airport we were greeted by a young lady who directed us to the cab driver The Catamaran Company had arranged to meet us.
The ride from the airport on Beef Island to Village Cay Marina on Tortola was scenic and pleasant. Upon arrival at Village Cay Marina we were greeted by Dana Candel who immediately set to work trying to mellow me down to island time. She answered all of our questions and put us at ease.
There are no briefings available after 3:00PM and you are not allowed to leave the marina unless you can reach your anchorage or mooring by dark, so you have the option of sleeping aboard the boat or getting a hotel room. Although the Village Cay Marina Hotel, which is right off of the docks, seems great, we opted for sleeping aboard.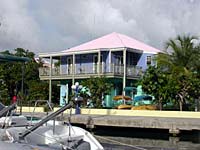 The marina is quite secure and crime seemed like the first evil I had left behind. Public restrooms complete with showers are available, which is good since using boat heads at the marina docks is prohibited. There is also a private pool at the marina. Within walking distance are Village Cay Bar and Restaurant, Calipso restaurant, Bobby's Supermarket, We Be Divin' dive shop, 3 banks and a 5 minute walk to town.
We had dinner and our first "Pain Killers", the BVI's drink specialty, at Village Cay Restautant and Bar. We settled into the boat, unpacked and unwound.
We had requested our provisioning arrive at 8:30am and even though it was Carnival time and I'm sure they hadn't had much sleep, they were prompt and courteous. A note should be made here that you pay for your provisioning when it arrives and if you plan to use a credit card you should contact your credit card company ahead of time or they may block transactions made in the BVI.
We had feared that we may be sleeping on canned food for days, but Certitude proved to have ample storage for our gluttonous quantity of groceries. After stowing everything away it was 9:30 and our skipper arrived. We were all pleased to find that he was easy going and comfortable with the boat.
We set out for Norman Island. We unfurled the jib, but never raised the mainsail. It was a good introduction to sailing without too much stress, and I got my first chance to man the helm.
Norman Island is said to be the inspiration for Robert Louis Stevenson's "Treasure Island". And appropriately enough we moored in Privateer's Bay. It's a beautiful little bay with a small beach and some sheer rock cliffs nearby. We snorkeled, swam, kayaked and generally had a great time. Water visibility was around 40 feet and the proliferation of tropical fish and coral was astounding. We moored to a mooring ball, which became a good habit. For $20 to$25 a night we could sleep easy knowing our anchor hadn't dragged and set us out to sea and that we hadn't damaged this unique ecological environment by dropping a big piece of steel on it. Norman Island is uninhabited unless you count goats as population, but it does have two restaurants. I never saw either of them and it was fine by me. We enjoyed the peace and tranquility of the Caribbean in the cockpit of Certitude over a couple of cold beers and had our first meal aboard the boat. There were two other yachts moored nearby, but everyone was quiet and respectful. It was a great evening.
We sailed to Cooper Island under full sail. The trip required several tacks and we found we swiftly improving at our sailing tasks.

We moored at Manchioneel Bay on Cooper Island, and it is ripped right out of picture post card with beautiful palms and a small beach. There's even a small bungalow on the beach that finishes off the image completely. The best snorkeling is near some jagged rocks that were a little far from our mooring, so the skipper gave us a ride in the runabout. The snorkeling was spectacular. Large coral formations and colorful fish abound. Visibility was around 50 feet.

There is a small open air bar and restaurant right off the beach, which we visited for more Pain Killers. There are also a boutique and dive shop as well as some cottages for rent. Cooper Island has about six full time residents, but no roads, cars, etc.

There were about twenty other boats moored nearby, but once again they were very quiet and we had a peaceful evening. The breeze was pleasant and we all slept well.

We left Cooper Island early and after a brief diversion to Trellis Bay on Beef Island where we dropped off some garbage and picked up some ice and water, we set out for the famous Baths on Virgin Gorda. It was a little crowded and the skipper had to call in a favor to get us a mooring ball, which was normally private. Despite The Baths being the most crowded place we went they were magnificent and a "must see". I had seen all of the magnificent photos of the amazing rock formations and clear pools, but what I didn't expect was that snorkeling right off of the rocks would be equally amazing. Visibility was good at over 50 feet and the coral and sea life were incredible. The whole place really escapes description. At this point we were all thinking, "How does it just keep getting better every day".

After thoroughly exploring The Baths we sailed on to Saba Rock on the east end of Virgin Gorda. Saba Rock is a tiny little island just off of Virgin Gorda. You can walk around the circumference of the island in easily less than five minutes. Despite it's size it sports a nice restaurant and bar and a gift shop as well as a small resort. There is a small but impressive outdoor aquarium next to the bar. We cooked steaks that night and after dinner my father-in-law broke out his guitar and the skipper sang. After a while we all joined in. We didn't sound too bad, but we had drunk a few Pain Killers. Everyone else moored that night was quiet and considerate, and we all had great night.

The skipper had made the mistake the day before of promising me he would take me out on the runabout to photograph the sun rising over Certitude, so at around 5:00am I knocked on his cabin door and although a little bleary eyed he got up and assisted me without complaint. The photos came out nice, but the memory of watching that sunrise is priceless.

The $25 mooring fee at Saba Rock includes a fill of your boats fresh water tank and two bags of ice. We took on the water and ice before setting out that day.

We sailed to Great Dog, which is one of five uninhabited islands called The Dogs. Once again it was the best snorkeling yet. Visibility here was around 60 feet. This was also the first time we used the anchor.

We had been keeping a close eye on a tropical storm called Bonnie and upon getting out of the water the skipper informed us that to err on the side of safety we would seek safe harbor for the night at Marina Cay. We were all on pens and needles waiting for the impending storm, which turned out to be a brief shower, but the skipper made the right decision non-the-less.

Marina Cay turned out to be an interesting little island. At eight acres it isn't big on space, but it has small gift store and a restaurant and bar. There is also a small beach. The only permanent residents are the Island Manager and two cats. I had the honor of meeting one of the cats. Marina Cay is also noteworthy as the setting of Robb White's "Our Virgin Island" which later became a film starring Sidney Poitier called "Two On The Isle". We went ashore and had a look around and had a drink, but spent most of the afternoon and evening doing very little, and it turned out to be a nice break, even in the BVI.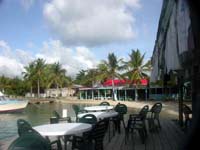 The skipper and I took some of the less seasoned snorkelers aboard to the small beach on Marina Cay where there is a shallow reef. They had a great time and the skipper and I enjoyed coffee from the bar.
We set out for Jost Van Dyke later that morning, but somehow the wind and sea were so nice that we found ourselves just sailing around, sometimes in the opposite direction of Jost Van Dyke. Since conditions were good the conversation inevitably turned to just how fast Certitude was. We began sailing a broad reach and eventually attained 10.7 knots, which the skipper assured us was a respectable speed.
Having had our fun sailing we moved on to Jost Van Dyke. Jost, as the locals call it is about four miles long and has just fewer than two hundred permanent residents. It is also the home to many famous hot spots like Foxy's. We opted to skip all of the usual tourist stuff and go to a little place our skipper knew about in Little Harbor called "Sidney's Peace and Love". It was rustic and run by locals. It had a great atmosphere, and the folks that run the place couldn't be friendlier. Thousands of donated T-shirts line the ceiling, and of course I left one as well, so look for it when you visit. On some evenings Sidney fires up the grill and makes bar b q. We were fortunate enough to be there on one of those evenings and the food was great. Sidney's also features an honor bar, where you make your own drinks and mark down a record for the bill. There was also a small gift shop at the same place, and another restaurant called Harris's Place. It was another great day in the BVI.
The previous day I had thought that Little Harbor wasn't that scenic with little vegetation and no spectacular rock outcrops, but I took it all back when I watched the sunrise. The colors playing across the water and the Caribbean style buildings on the shore made quite a picture.
We motored to Sandy Cay early in the morning. Sandy Cay is like something out of a post card, with picture perfect palm trees and a beautiful sandy beach. Some of us set out snorkeling while others went to the beach. One of my friends found a trail and we followed it together. Although it wasn't a long and grueling hike we still found ourselves high above the yachts below with a stunning panoramic view. We found that Sandy Cay was far more complex than it appears upon first examination. The far end of the island sports large, craggy, black rock cliffs that plunge into crashing waves. It was a stark contrast to the tranquil looking beach area, and very beautiful in it's own right.
After having our fill of this tiny paradise we sailed on to Cane Garden Bay. Once again we took an unnecessarily circuitous route so we could have some fun sailing. My wife took the helm for the first time and had a blast.
Cane Garden Bay is certainly populated with many restaurants, bars, hotels etc., but it isn't commercialized in the way that someone from Florida is used to at least. It isn't overbuilt, and there are no tall ''', and no franchise stores. It has a quaint feel, and it's beautiful. Pink and powder blue clapboard houses cling to lush hill's sides overlooking a beautiful harbor.
We went ashore and took advantage of the opportunity to take showers with the profuse amounts of fresh water we are generally accustomed to. Some of our group took a cab tour of the area, which they described as spectacular, while others of us visited a local dive shop and checked out the bars.
Cane Garden Bay was a great experience and going to sleep with the sounds of bands playing and people partying seemed otherworldly after having visited so many secluded places.
On our seventh day we sailed to Great Tobago. Great Tobago has no mooring balls and we had to be very careful anchoring to avoid damaging the fragile ecosystem. We snorkeled and were very impressed with the marine life. Great Tobago was likely the most different of all the islands we visited. It has a dark and forbidding quality to it with dark cliffs plunging into the sea at skewed angles. There appear to be faces in the rock formations gazing down upon you. The uninhabited island is hilly but covered only by grass and a few spars and twisted shrubs. If there are the ghosts of pirates in the BVI then surely the real nasty ones stay on Great Tobago.
All of this having been said, who can escape the appeal of an evil, haunted pirate island. Frankly I thought it was cool.
For the evening we put into Sopper's Hole. We elected to visit Sopper's Hole because there is a ferry dock there and two of our group had to catch a ferry back to the US Virgin Islands in the morning. Sopper's Hole is a little commercialized for my tastes, but it certainly does have many conveniences, with many stores, a restaurant and bar, and showers available. My wife did most of her gift shopping here in one central spot with lots of selection ready at hand. We had dinner at Pusser's which was great and turned in for the night.
We got up early and slowly began to pack and reluctantly return home. There were many hard goodbyes that day Starting with my friends Ben and Shari whom we dropped off at the ferry dock at around 9:00am. We got to wave goodbye to them on the ferry from the deck of Certitude as we released our mooring. After motoring back to Village Cay Marina we had to rush my mother and father-in-law to a cab. The skipper had just secured the boat when I returned. We were fortunate to have enough time to have one last coffee with the skipper at the Genaker Cafe. After the skipper left we went to the office of The Catamaran Company and chatted with Dana until the time for our departure by cab.
It was truly the vacation of a lifetime and we would like to thank everyone at The Catamaran Company for making our trip so wonderful and being so kind and considerate. The boat they chartered us was magnificent, their staff attentive, and their facilities superb.
This is a vacation, a voyage and an adventure that is within your grasp. Contact The Catamaran Company and let them help you set up your dream vacation in the BVI.