2014 Lagoon 52
– 5 Cabin Bareboat / 12 Guest
Catamaran available for Charter in Tortola, BVI
The Lagoon 52, the latest model developed by the world's leading builder of cruising catamarans, marks a whole new era in the design of such catamarans as indeed did its predecessor, the famed Lagoon 500.
With its diamond-shaped vertical bows, bevelled hulls, its as if levitated deckhouse and tall rig, the Lagoon 52 is no ordinary catamaran, but its originality goes a great deal further than just its "outer" appearance, or even its interior layout.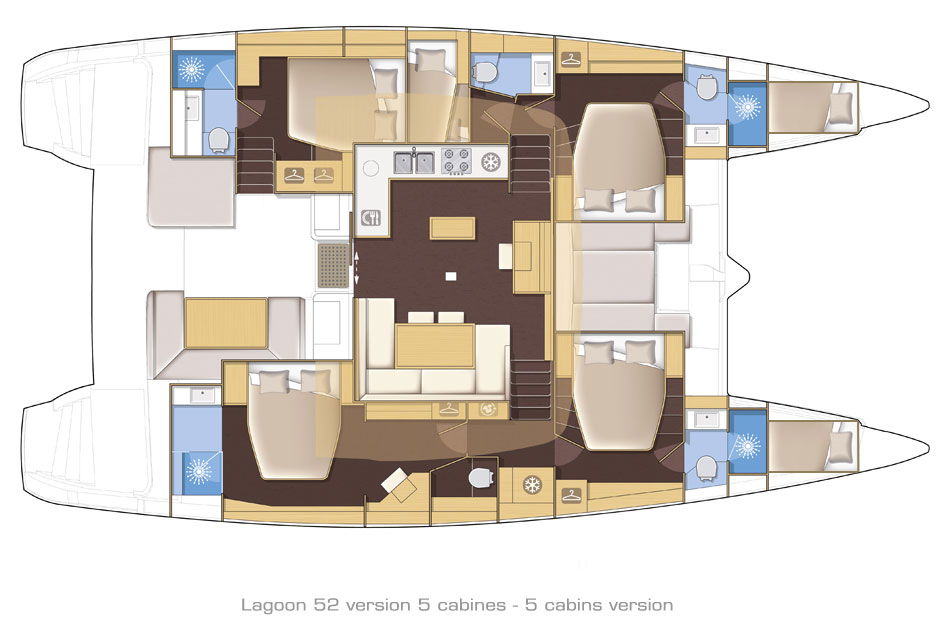 This new Lagoon is the result of lengthy discussions between the architects at Van Peteghem-Lauriot Prévost (VPLP), the Italian Nauta Design agency and the Lagoon design department. These discussions led Lagoon to make some important and sometimes radical choices, while remaining faithful to their beliefs, in terms of elegance, comfort, safety, user friendliness and, it goes without saying, performance under sail.
The Lagoon 52 named "Nauti By Nature" is proudly owned by Melanne Maddalene, who now owns two catamarans in our charter fleet: Between The Sheets, a Lagoon 450 (4 cabins) and now a Lagoon 52 Nauti By Nature.
Mel, an avid sailor and skipper who has been sailing for many years, was going to purchase a flat in London, but then decided to purchase a second catamaran for charter. You ask why? Read her comments below on how and why she opted out of purchasing property and went for a luxury vessel investment instead!
Year Built:
2014
Length:
52 ft.
Accommodates:
12 Guests
Number of Cabins:
5
Front Peak Cabins:
2
Salon does not convert
Air conditioning throughout
Full Vessel Specifications (PDF)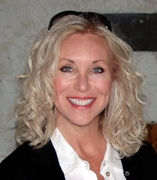 Melanne Maddalene, owner
" I have had the incredible joy of getting to customize my Lagoon 52 – Nauti By Nature – with the invaluable help of the Base Staff Head mechanic Didier (who knows the Lagoon boats better than anyone!!). My choice – with the advice of the CatCo charter team, was to buy the 5 cabin configuration versus the 4. I have found that having that fifth cabin is invaluable for extra guests (especially singles), children, or extra A/C storage.

The first thing we customized was to add two large dining tables – one for the back deck and one for inside – I have found that the small cocktail tables are really not practical – and switching them is something you don't want to have to do (it sounds good in theory but not in reality).

I then made sure that I have three freezers and three refrigerators – makes running out of provisions a non-issue! The Lagoon 52 comes with speakers that are mounted on the spreaders – which is lovely for guests that are in the foredeck area, but does not work for those in the cockpit... So Didier has added great speakers to the cockpit!

I have also provided extra stools that can be used for the inside table or the table on the back deck allowing you to make full use of both tables. When sailing the Lagoon 52, before I decided to purchase one, I noticed that it is impossible to see the aft pontoons from the helm – so backing up into a slip is interesting! I decided to add back-up cameras that are displayed on the chart plotter, so backing up is not an issue anymore! There are a number of other little extras that make my sailing adventure on Nauti more fun and comfortable – as well as fun.

One last thing I want to say about the 52 – those of you that are serious sailors will already be familiar with the new design and how it affects her performance – but for those of you that aren't quite so serious, let me tell you that she is a fast, well performing boat. I was the last in line during a social regatta... with five larger boats in front of me (60 footers)... I was a half-mile behind (due to a crew member leaving something onshore the previous night, which we had to rescue). Not only did I pass all five boats – with a wing-on-wing or gull-wing sail configuration – but I got to our destination and had a cocktail in my hand a good 15 minutes before the first boat arrived. The other captains were looking at us through binoculars to see if we had our engines on – which we didn't – and I suppose being passed by a woman added insult to injury for some of them! Sailing into an anchorage or marina in the 52 creates quite a spectacle – she is a beautiful boat as well as an amazing performance boat – perfect blend of beauty and performance!!!! Enjoy!!!


Nauti Discounts of 15%
15% promotional discount is valid on booking a 7 day or more bareboat charter aboard the Lagoon 52. Cannot combine discounts and only valid on limited charter weeks. Nauti By Nature, Lagoon 52 accommodates 12 guests. 5 cabins and 2 in front peak. Salon does not convert. AC/Gen throughout.
Available dates for discount to Nauti 15% discount:
| | Charter rate for 7 days: |
| --- | --- |
| 14 November 2014 - 21 November 2014 | $15,360 - $2,304 = $13,056 |
| 13 December 2014 - 20 December 2014 (Tortola, BVI) | $14,250 - $2,137 = $12,112 |
| 6 January 2014 - 13 January 2014 | $17,600 - $2,640 = $14,960 |
| 25 April 2014 - 2 May 2015 | $15,519 - $2,327 = $13,191 |
| 10 May 2014 - 17 May 2015 | $15,360 - $2,304 = $13,056 |
Repeat charters entitled to 10% discount on all other available dates.
---
Make an inquiry to charter Nauti By Nature.
The Lagoon 52 is simply GORGEOUS and will be brand new when you arrive. She will be delivered to us from factory in October and the Owner put every imaginable feature on this 5 cabin 5 head to make it just perfect. It's a very special cat and booked up already.