2014 Lagoon 52
– 4 Cabin Bareboat / 10 Guest
Catamaran available for Charter in Tortola, BVI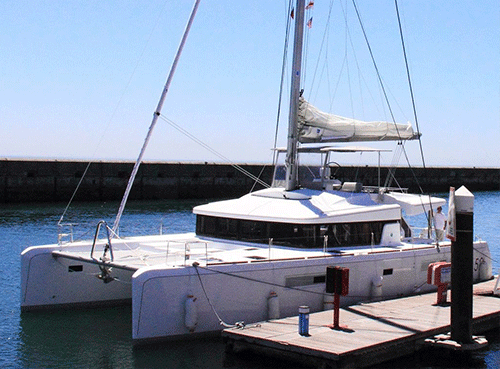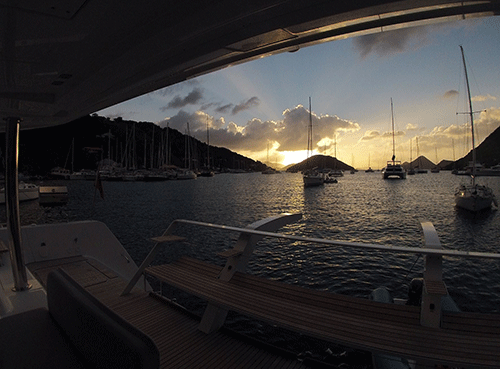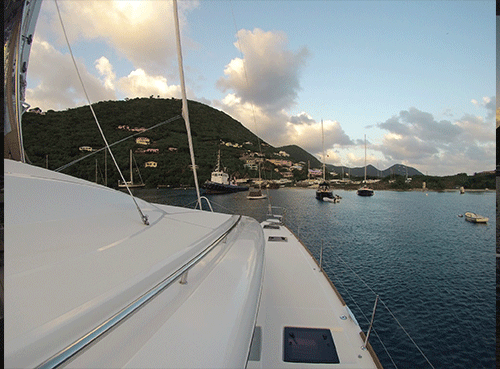 Make an inquiry to charter "Blew By You".
The Lagoon 52 is a marvelous combination of improved systems and luxury accommodations. With her diamond-shaped vertical bows, bevelled hulls, deckhouse and tall rig, the Lagoon 52 is no ordinary catamaran, but its originality goes a great deal further than just its "outer" appearance, or even its interior layout.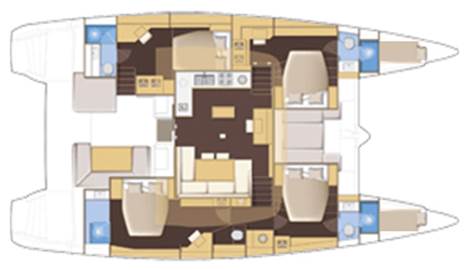 The Lagoon 52 named "Blew By You" is proudly owned by Gene Trefethen, who, along with his son, joined the professional delivery crew for the one month journey from Bordeaux, France to Tortola, BVI. His friends arnd family have enjoyed sailing "Blew By You" throughout the Caribbean.
Learn more about "Blew by You" below including specs, owner testimonial, images, and more.
Year Built:
2013
Length:
52 ft.
Beam:
28 ft.
Draft:
4'11"
Accommodates:
10 Guests
Double Cabins
w/ large individual showers
& electric fresh water:
4
Number of Single Cabins:
2
Fresh Water Capacity:
253.6 gal
Diesel Fuel Capacity:
262 gal
Full Vessel Specifications (PDF)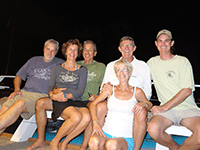 All aboard!
" Below is my story.

In 1999 my wife and I, with another couple, chartered a crewed Lagoon 57 in the British Virgin Islands. We had a wonderful time and since I raced monohulls in my early days I was pleased to find that my wife liked the luxury of the Lagoon design and the performance of catamarans under sail. In 2009 when I turned 60 my son gave me a gift of an ASA course to get certified for large catamarans and we both spent a week with an ASA certified instructor from San Diego on a 46 foot catamaran out of Red Hook, St. Thomas. From this successful training we have developed a team of friends and family that do annual trips around the Virgin Islands. We have bareboat chartered Lagoons exclusively starting with a cramped 440 and many 500s from different charter management companies.

I particularly like the bareboat challenge and toured the Lagoon 62 and then the Lagoon 56 crafts as Lagoon introduced them in the US, but both boats are unfortunately beyond the bareboat concept. In February 2013 my wife, son and I toured the hull #1 of the Lagoon 52 in Miami. The Lagoon 52 is a marvelous combination of improved systems and luxury accommodations. Those in the team that enjoy sailing can easily do so in close proximity to the sun worshipers – what could be more perfect. I added all electric winches, combined with folding props and hydraulic steering -this makes for a great time in any weather. Electronic engine controls and upgraded 75 hp turbocharged Yanmar engines makes manoeuvring easy. During the "Strictly Sail Miami" show we got a chance to talk to the people that delivered the boat from France and some who had done sea trials for Public Relations photos in the Bahamas – everyone raved about the agility and speed even in light wind. These comments are what led my wife to name the boat Blew By You. We are suggesting by the name that other boats will remember us from reading the name on the transom as we blow by.

I chose The Catamarans Company and signed a purchase contract during the Miami show because they had a long history with Lagoon which proved to be exactly the case. We ordered the rear seat with electric hydraulic davits and teak flooring which really makes a difference. My son and I were allowed to join a two person professional delivery crew to sail from the Lagoon factory in Bordeaux, France to Tortola, BVI. We arrived to join the managing Director of Cat Co, Hugh and Scott for QC both from the Fort Lauderdale office. We had a private tour of the entire facility with just Hugh showing us around. We experienced the professional relationship and trust between Lagoon and Cat Co. Scott spent days before we arrived testing all systems, rigging and workmanship. He managed to get all work completed within two days and we spent the month of August working our way to the new home in Hodges Creek where the Blew By You now hails from. Mark one off on my bucket list.

At Hodges Creek Marina the entire CatCo team are great. Didier has a great understanding of all systems and his people are well
trained. "
---