Lagoon 42
– 4 Cabin/4 Head/2 Singles
Catamaran available for Bareboat Charter in Tortola, BVI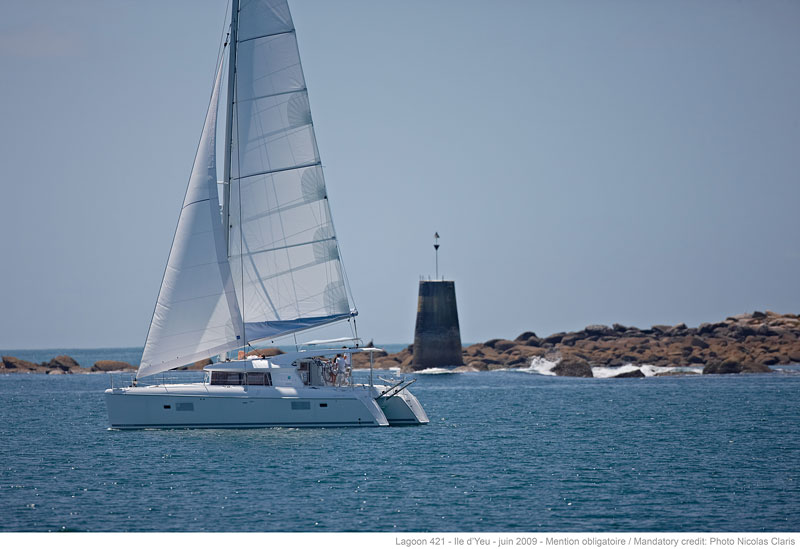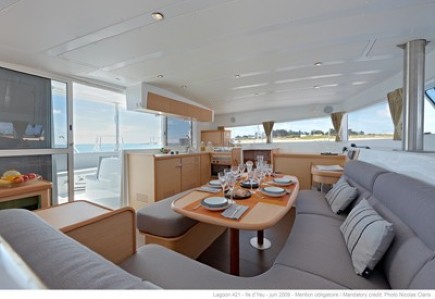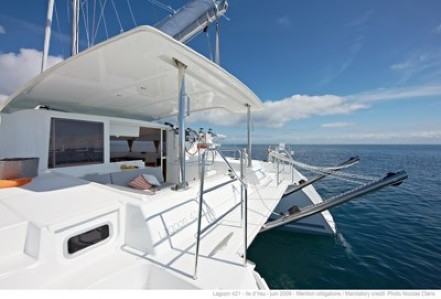 Make an inquiry to charter Kia Ora.
Nicely appointed, well thought- out design with a very wide beam of 25ft. KIA ORA, Lagoon 421 bareboat catamaran comes with four cabins and four en-suite heads/showers with 2 single crew berths in the forward bows. KIA ORA accommodates up to 10 guests. Very well equipped catamaran with generator and air conditioning though-out the salon and interior staterooms. Immense interior head room that accommodates the tallest of people. All cabins are equipped with fans and are well ventilated with ample hatches and sea views.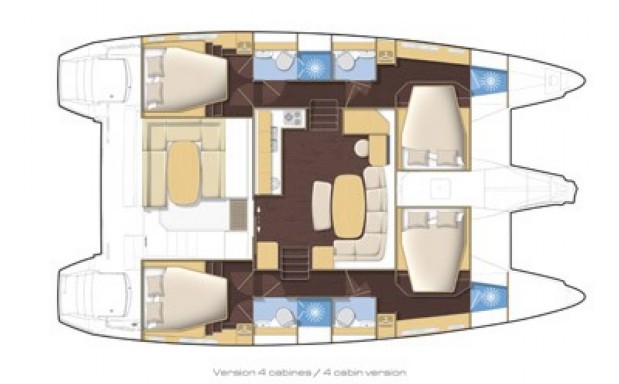 Panoramic views from the salon and cockpit with vertical windows. Seating for up to 10 guests in the salon and cockpit. Raised helm station with helm seat and protective coverings from all types of weather conditions.
KIA ORA's Owners visits the British Virgin Islands on a regular basis and partakes in the upkeep of his catamaran. "Scott Burkhardt"owner of Kia Ora always puts personal and key elements onboard to make your catamaran sailing vacation and even better one. One of the advantages when chartering with The Catamaran Company is the personal touch. Many of our owners take a special interest in their catamaran and we ensure superior maintenance. Scott Burkhardt, Owner of KIA ORA, Lagoon 421 spends his charter week outfitting his catamaran to ensure that you will come back year after year and requests his catamaran for charter in Tortola, BVI!
Boat Year:
2012
Make:
Lagoon 421
Length:
42
Number of Persons:
10
Number of Double Cabins:
4
Number of Showers:
4
Salon Converts:
Yes (2 pax)
Front Peak:
2
Air conditioning throughout
Available for bareboat catamaran charter in Tortola, BVI.
We are located in the crystal clear waters of Hodges Creek Marina close to Beef Island Airport on the East End of Tortola, British Virgin Islands. The Catamaran Company has a fleet of popular catamarans for charter. Quality catamarans are available from Lagoon and Gemini catamarans ranging from 34ft to 50ft in Bareboat charter and 44ft to 85ft in crewed yacht charter. Enjoy sailing in the Caribbean's best sailing spot in the world with over 50 islands to visit with white sandy beaches, beginner to advanced diving, snorkeling and perfect sailing conditions.
Why I chose the 421- " Upon choosing the Lagoon 421 - My initial goal was to find a boat that works well in charter. Charter guests are typically fair sailors, but their sailing skills are perhaps a bit "rusty". So the boat had to be easy to sail, running rigging had to be obvious and simple to figure out. The location of the helm station is important. I wanted a larger boat where the helmsperson was still a part of the charter trip. The helm on the 450, while providing a great view, isolates whoever is driving from everyone else. I think this detracts from a charter vacation. The chosen vessel had to have 4 cabins, and each cabin has to have its own PRIVATE head. At the end of the day, couple's now a days expect to have some privacy. AND, the size of the bunk and private head have to be properly sized. American's are getting bigger. And, it still has to sail well. The 421, with the square top main, is an efficient sailboat, and does exceedingly well in light air. As the winds pick up, one can always reef, but a slow boat in light air is not a happy thing. Smaller boats (410, 380, etc.) do not provide sufficient cockpit space for everyone to gather at the end of the day, and the cabins are too small. "
– Scott Burkhardt, owner of Lagoon 421 "Kia Ora"
Owner Website
Many of our owners partake in referring customers to charter where they earn additional referral fees.  Many of our owners do build their own websites to show their very own catamaran and to highlight their features.  To view Kia Ora's owners website please click here: www.SailKiaOra.com
20 more reasons to charter KIA ORA in Tortola, BVI
These improvements below are genuine reasons why this catamaran is one of the best choices to choose from.
1. 3 new solar panels were added for a total of 795 solar watts. This dramatically decreases the amount of generator time that is required to charge up the batteries!
2. New 100 amp charger has been added to the genset. The total charging capacity is now 140 amps. Again, this will reduce the running time of the genset. We recommend running the genset for an hour or so at night to top off the batteries and cool off with the a/c. The batteries will then last through the night and should start charging in the morning from the solar panels.
3. On top of the current fans in the staterooms, additional fans have been added in every cabin. So now, KIA ORA, Lagoon 421 charter catamaran now is equipped with two fans per stateroom vs. one!
4. Shower caddy has been added in both rear showers.
5. An additional strap has been added to forward shower doors to ensure they stay open when necessary. This increases and aids the air flow through the entire catamaran.
6. Each stateroom is now equipped with an additional robe hook. So two instead of one!
7. A new LED light has been added above the BBQ area. We can now see what we are cooking at night!
8. On the transom, where guests shower after swimming and to wash off, a "whale twist" shower head replaced the factory shower head. This allows a significant increase in water flow and is easier to use. Now both, hot & cold water water!
9. Upon exiting from the dinghy, a new hand rail on the port transom has been added to aid disembarking from the dinghy.
10. In the pantry storage area in the main salon a new shelf has been added.
11. For the electronics, a new weather instrument has been added to track temperature and pressure. This is an indoor/outdoor instrument and the second sensor is located in the freezer so we know for sure what the freezer temperature is.
12. A new chain grab has been added on the bridle. When anchoring, it is significantly easier now to attach the bridle to the chain.
13.. Two ft. Of stainless steel chain has been added with the new chain grab. When mooring, the ss chain is threaded through the mooring pennant eye, and then attached to the chain grab. This is significantly easier than before.
14. Improved the snaps on the bow cushions. They cannot blow away anymore.
15. Wi-Fi wireless router has been added. This works off the island cellular system, so connections are possible whenever you have a cell signal.
16. Door jams have been created to keep the salon sliding door and window open while underway.
17. And coming in November...carpet for the stairs and large mats for the galley and entrance way. The stairs can get quite slick when wet and these will address any of these problems.
18. Over the years of cruising in the BVI', and the islands in general, a concern that I had was the quality of water. The BVI's do a fair job of processing city water, but the RO water one gets out at the Bitter End Yacht club is always a pleasure to drink. It would be nice if we could have this quality of water everywhere. So, to address these concerns I have added a two stage whole house water filter. The filter is inline between the fresh water pump and all of the taps, so all water is filtered. The first stage is a sediment filter that removes suspended particles down to 1 micron. This filtration size is fine enough to remove the general crud and SOME of the bacterial agents in the water. The second stage is an activated carbon filter to remove chlorine and any Volatile organic compounds (VOC). This removes most of the carcinogens and bad taste from the water. When loading dock water into Kia Ora, the water now tastes good, and is good for you as well. You do not have to worry about "bad water" any more. It is not quite pure as bottled water, but it is a BIG step up from the tap water in Tortola. For complete details, see http://www.theperfectwater.com/Home-Master-2-Stage-Fine-Sediment-and-Carbon-Filter.html I believe Kia Ora is the ONLY charter boat in the BVI's that has water filtration.
19. Last year, October-2013, I worked extensively on securing the dinghy to Kia Ora. Lagoon is notorious about doing a poor job with the dinghy, so I have addressed this item directly. Firstly, I installed new turning blocks on the transom that permit us to use the electric winch to secure the dinghy. Secondly, the dinghy lines are transverse mounted, so they will stop any motion of the dinghy in high seas. As the winch pulls the dinghy up tight, there are two new cam locks on the transom to lock the lines in place. And voila, the dinghy is tied up. One person, a small person at that, can now easily and quickly bring the dinghy up and secure it in place. No more hearing the dinghy slam around while making the passage to Anegada.
20. Battery Replacement - The factory batteries from Lagoon are cheap lead-acid batteries. They are not marine batteries and were prone to failure. Failure would result in explosive hydrogen gas escaping from the battery, as well as hydrogen sulfide gas. Not good. I have replaced all of the factory batteries with sealed AGM batteries. The new batteries will never outgas any gases, even in the high seas and are properly sized for the amount of electrical equipment on the boat. The battery bank will no longer run down to nothing during the middle of the night. Dead batteries meant warm freezers and spoiled food.
---