Always friendly and enthusiastic, Gaida possesses a hardworking disposition and had been a devoted employee of The Catamaran Company for thirteen years, during this time she began as the MLS Adm, later to Sales Assistant, the Assistant to the President and eventually the Manager of our Internal Closing Department called DETAILS, DETAILS for 8yrs.
She was born in Rio de Janeiro, Brazil, lived in the Dominican Republic from the age of 2 to 10, when she moved to East Lansing, Michigan until 1987. Gaida then returned to the DR to get her Bachelor's Degree in Hotel Management and upon completion, moved to Fort Lauderdale, FL in 1994.
After taking a sabbatical from Details Details in May 2013, Gaida returned in March 2014 to The Catamaran Company as the Yachts Sales Department Office Manager.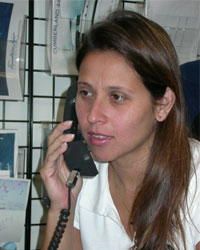 Gaida Cabral
Yacht Sales Office Manager
Lauderdale Marine Center
2019 SW 20th Street Suite 300
Fort Lauderdale, FL 33315
Tel: (954) 449-4640
Fax: (954) 727-0024
Email: gaida.cabral@catamarans.com