Andy has been surrounded by the ocean his whole life. As a life long resident of the Florida Peninsula, it is hard to not love the ocean as much as he does. If you ask him why, it's a rather unique answer: When his grandfather was just a boy he was diagnosed with polio by the doctors at Johns Hopkins. Rather than traditional medicine, his family moved everything from Baltimore, Maryland to Miami, Florida just to soak the young boy in the warm ocean. It was believed the salt water was a natural remedy for the disease. His Great Grandfather would soak him in the ocean every morning, even after working his night shift at the pulp mill. Low and behold that same boy is now in his seventies and a role-model for Andy and his new family.

Andy spent his youth in the United States Coast Guard as a Damage Controlman. He was stationed in Charleston, South Carolina and the majority of his time underway was spent in the Caribbean. After leaving the Coast Guard Andy attended college at the University of North Florida in pursuit of degrees in both Political Science and Economics. This school was chosen not for its exemplary academics, but rather the convenient location to the ocean. Andy's hobby has always been surfing and he would come into class salty and sandy, proof that he caught the morning swell before his class.

Andy believes the secret to life is the proper balance of working hard and enjoying the little things in life. If you live the life you love, you will love the life you live!

Fate brought Andy to the Catamaran Company. Working at the Catamaran Company, Andy has a chance to help other people experience his same love for the ocean in a whole new way!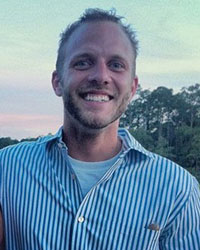 Andrew Walker
Yacht Sales
Tel: (954) 256-8206
Fax: (954) 727-0024
Email: andrew.walker@catamarans.com